Mo Yan's Nobel literature prize draws mixed reactions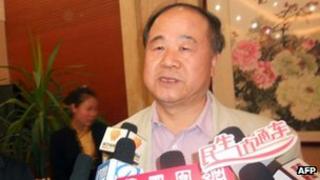 Chinese writer Mo Yan winning the 2012 Nobel Prize for Literature is making headline news in China, with an overwhelming amount of praise, but also controversy, among internet users.
The tightly-scripted government-controlled China Central Television's (CCTV) Network News evening news bulletin even broke the news around 10 minutes after the Swedish Academy announced Mo's award.
The majority of state-run media commentaries say global recognition of writers like Mo who write about the suffering of people at the grassroots level will help the world to understand China's formidable challenges as a developing country.
"With more Chinese writers like Mo, the world could learn a more real China. Perhaps, this is another reason for the Swedish Academy's choice," the official Xinhua news agency said.
Motives questioned
The media's effusive response to Mo's award is in sharp contrast to the angry tirade when jailed dissident writer Liu Xiaobo won the Nobel Peace Prize in 2010, which was lambasted as a desecration of the prize.
When Chinese-born French citizen Gao Xingjian won the Nobel literature prize in 2000, it took a few days for the state media to respond.
Some media questioned whether political considerations were involved in Mo's win. Some literary critics believe that the West has handed an olive branch to China to improve strained relations after previous Nobel Prize controversies.
"Could the decision also be a sign of the Nobel committee seeking to mitigate tensions with China after awarding the Peace Prize to Liu Xiaobo in 2010?" the Beijing-based Global Times asked.
The newspaper called on the Nobel committee to go beyond dissidents and the "fringes of Chinese society". "It doesn't add to the glory of Nobel Prize if it is at odds with China for long," the newspaper stressed.
'Shut Up'
The majority of commentators and internet users have congratulated Mo, but his award has also stirred some controversy on Weibo, or Twitter-like microblog sites.
Peking University professor He Weifang noted with regret that Mo had handwritten a transcript of a Stalinist-style speech by Mao Zedong in 1942 ordering writers to serve the Communist Party's propaganda cause.
He, however, stressed that Mo deserved to be congratulated.
Hong Kong newspaper South China Morning Post said some Internet users had contrasted Mo Yan's win with Liu Xiaobo, who was represented by an empty chair at the Nobel prize-giving ceremony.
"Two Chinese citizens have won the Nobel Prizes, one is 'Shut Up' and the other has been shut up," a Weibo user called Ka Ka wrote. The pen name Mo Yan means "don't speak".
Some commentators were surprised that the Nobel prize was awarded to Mo, who is seen by some Chinese as being close to the communist authorities as vice-chairman of the pro-establishment Chinese Writers' Association.
Shanghai-based columnist Zhao Chu wrote on his microblog, "Two years ago, a Chinese won a Nobel Prize and everyone had to remain indignant, or be spurned by all as Western slaves and traitors.
''A Chinese has won a Nobel Prize again this year but we have to say that 'it is after all a good thing'. Any trace of dissent, and one will be branded a Western slave and traitor."
The Beijing-based Global Times reported that Zhao's remarks were reposted more than 1,200 times.
Activists divided
Publisher He Xiongfei called for the world to cancel Mo's award on his microblog.
"Mo Yan winning the Nobel Prize for Literature is a disgrace in the history of the Nobel Prize and may even be a conspiracy of the Nobel committee, with the aim of embarrassing the Chinese government."
Chinese writers and activists interviewed by overseas-based media were divided on Mo's win. Many figures have congratulated Mo, while others see his award as a mistake.
Beijing-based dissident artist Ai Weiwei said Mo's win would not help Liu Xiaobo to be freed from prison because Mo had remained silent on the issue.
"I think the Nobel organizers have removed themselves from reality by awarding this prize. I really don't understand it," Ai said.
Exiled writer Yu Jie told RFA that Mo's award was a mistake.
"I am worried that the government will use Mo Yan's prize win to set off a new round of nationalism to offset to some extent the Chinese people's yearning and desire for democracy and freedom brought by Liu Xiaobo winning the prize two years ago," Yu said.
BBC Monitoring reports and analyses news from TV, radio, web and print media around the world. For more reports from BBC Monitoring, click here