China morning round-up: Judicial reform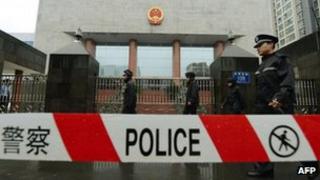 Newspapers comment on a proposal for judicial reform, including a hint of change to the controversial re-education through labour system.
Under the current system, people can be jailed for up to four years without trial for alleged offences such as prostitution and drug possession.
A Beijing News commentary says although the system helps to maintain social order, it has also become a "greenhouse" for the abuse of power by local officials. It should be reformed as soon as possible, the paper said.
Others talk about broader judicial reform. Guangzhou's Southern Metropolis Daily says the rule of law is an "indispensable public vision of a modern state".
The paper's editorial says the fundamental questions are how to distribute power within the judicial system and how to ensure legal procedures achieve justice.
The Beijing Times' commentary says China can no longer shy away from structural reforms of its judicial system that can protect human rights and impose checks on the authorities.
China Daily's editorial says: "Like the situations in any other country, the Chinese judicial system is not perfect and is still a work in progress."
Also on Wednesday, China Daily says the East China Sea islands dispute between China and Japan will "hit the global economy", according to experts from a think-tank sanctioned by Beijing's Foreign Ministry, as China's top finance officials stay away from the IMF and World Bank meetings in Tokyo.
A front-page commentary in People's Daily Overseas Edition says it is up to Japan to decide whether it wants peaceful development.
Meanwhile, China Daily and the Beijing Times say the Foreign Ministry has launched a new department specialising in international economic co-operation, saying it is the latest move to boost economic diplomacy and "to protect national economic security".
Shanghai Daily and the Beijing Times report Air China grounded two domestic flights on Tuesday after receiving hoax attack warnings, a day after a China Southern Airline's international flight was forced to land for the same reason.
The Global Times and Beijing News report a court in Beijing has begun hearing a lawsuit regarding the November 2004 Baotou air crash, which killed 55 people.
Family members of 32 victims are suing China Eastern Airlines, aircraft builder Bombardier and jet engine manufacturer General Electric for 132 million yuan ($20.99m; £13.12m), said the reports.
Beijing News and others also report the statistics released by the Transport Ministry on Tuesday, saying some 189 million cars travelled on China's highway network during last week's eight-day Mid-Autumn Festival and National Day holiday, up 55% from last year.
The ministry said tolls worth 6.54bn yuan were waived under the new policy.