China morning round-up: Huawei and ZTE row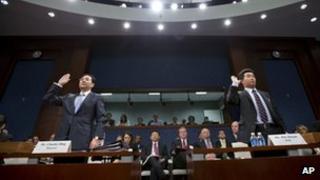 Chinese newspapers publish strong criticism of a US congress report which said Chinese telecom firms Huawei and ZTE posed a security threat to America.
China Daily and People's Daily call the House Intelligence Committee report "baseless"; Guangzhou's Southern Metropolis Daily says the two firms reacted "angrily" to the allegations.
Shanghai's China Business News says it is the two parties' "favourite trick" to China-bash as the presidential race heats up.
A People's Daily commentary rebukes the report as a "presumption of guilt". It says the report's statement that "the committee finds that the companies failed to provide evidence that would satisfy any fair and full investigation" reveals the committee's "gangster logic".
The Global Times' bilingual editorial says: "We have to show through concrete actions that any unfair treatment to Chinese companies will be met by similar losses to American interests."
Its Chinese version stresses the word "retaliation", saying China "must have the guts to struggle with the US" so that it will be respected.
China Daily and People's Daily report comments by a senior Communist Party official on major corruption cases, including that of former Chongqing party chief Bo Xilai.
"A series of major cases, including those involving [former Chongqing Party chief] Bo Xilai, [former railways minister] Liu Zhijun and [former Shenzhen mayor] Xu Zongheng were relentlessly pursued," the papers quoted He Guoqiang, secretary of the Communist Party's Central Commission for Discipline Inspection, as saying.
He told a meeting the party had punished more than 660,000 officials for "disciplinary violations" in the past five years. Some 24,000 of them were handed over to law enforcement authorities for further investigation and prosecution.
Hong Kong's South China Morning Post says Mr He, who became the party's anti-graft chief in 2007, is expected to step down after the 8 November party congress.
The Global Times and People's Daily report Premier Wen Jiabao inspected anti-poverty work in southwest Guizhou province during the National Day holiday last week. He also urged continuous efforts on sustainable development in the region.
Hong Kong's Sing Tao Daily says Mr Wen also showed off his basketball skills during the holiday in a friendly match between veteran national team players.
Ming Pao Daily News says the lack of reports on Mr Wen's basketball match in state media indicates that Mr Wen is struggling to gain discursive authority ahead of the party congress.
Shanghai Daily and the Beijing Times report a China Southern Airlines flight made an emergency landing on Monday after receiving a hoax threat of an attack.
Flight CZ680, from Istanbul to Beijing, was forced to land in Lanzhou two hours after it resumed flight after a scheduled stop-over in Urumqi, capital of the restive Xinjiang region. Southern Metropolis Daily says a suspect has been detained by police in Xinjiang for the hoax.
Papers including Shanghai Daily also report the announcement of this year's Nobel prize for medicine or physiology. The Global Times says Chinese netizens were "in angst" because one of the winners, Shinya Yamanaka, is Japanese.