China morning round-up: Twin disasters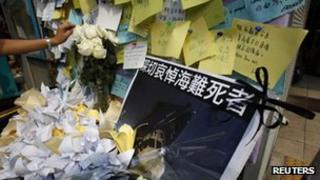 Two disasters dominate Chinese media on Friday as the holiday period draws to a close.
Hong Kong media continue extensive coverage of the 1 October ferry disaster amid a three-day mourning period.
Mainland Chinese newspapers also carry detailed reports on the mourning, while the People's Daily has a brief report rounding up the sad atmosphere.
Discussion about the involvement of Beijing officials in handling the tragedy continues. The Macau Daily Times points out Beijing's "show of concern" has "further damaging the communist government's image in the former British colony".
Beijing sent a top official to meet survivors in hospital and deployed rescue boats for the search.
Peng Qinghua, Beijing's top representative in Hong Kong, said it was "a matter of course" that mainland authorities should help Hong Kong out in times of trouble, Sing Tao Daily reports.
"When the accident happened, rescue work was the first thing to do. I believe that as long as political preconception does not get in the way of humanism, no one would stand and do nothing to save people's lives," China Daily Hong Kong Edition quoted Mr Peng as saying.
An editorial in Ming Pao Daily News says Hong Kong Chief Executive CY Leung and the Beijing representatives "should interact carefully" to avoid any impression that Beijing is interfering Hong Kong's internal affairs. If it had been Mr Leung who announced the deployment of the mainland vessels instead of Beijing's deputy top representative Li Gang, public perception would have been different, it said.
Back on the mainland, China Daily, Shanghai Daily and Guangzhou's Southern Metropolis Daily report the landslide in southern Yunnan province. Eighteen children had been found dead as of Friday morning.
Hong Kong's Ming Pao Daily News reports netizens asked about the whereabouts of teachers when the landslide happened, and if it was necessary to make up classes missed during the September earthquake.
China Daily and Southern Metropolis Daily also report the visit by former Taiwanese premier Frank Hsieh, which began on Thursday. China Daily called Mr Hsieh a "heavyweight" of the pro-independence Democratic Progressive Party (DPP) in the headline.
Hong Kong's Sing Tao Daily says Mr Hsieh was given "a high-profile reception" by local authorities as he arrived in Xiamen. The pro-Beijing Wen Wei Po newspaper says this indicated Mr Hsieh would have the chance to meet more Chinese officials during his trip.
With the eight-day long holiday about to conclude, Shanghai Daily says the highways were running smoother, but major tourist spots remained "mobbed".
"The 119 major scenic spots across the country registered 5.69 million tourists by 17:00 yesterday, an increase of 25% over the same day a year ago," said the paper.
Shanghai Morning Post says the tourist spots were turned into "pieces of mess", with Beijing's Tiananmen Square and a major beach in the southern resort city of Sanya littered with tonnes of rubbish.
Beijing News' editorial says the only way to relieve pressure during "golden week" holidays is to reform China's holiday system, enforcing workers' right to take paid leave during the year.