China morning round-up: Crowded holiday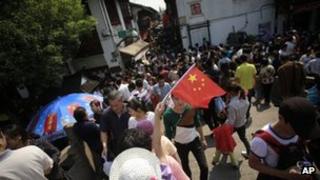 Newspapers report China's major attractions have been flooded with holiday-makers, as the eight-day Mid-Autumn Festival and National Day "Golden Week" continues.
Shanghai Daily reports some tourist sites had to limit visitors, with a picture showing a square inside the Forbidden City museum in Beijing packed out.
Beijing News says catering sales in and around the zoo have seen a 20% rise in transactions. Its editorial asks why major attractions refuse to issue congestion alerts so people can think twice before joining the crowd.
Meanwhile, the Beijing Times and Guangzhou's Southern Metropolis Daily report the Transport Ministry has ordered all highways to keep their toll gates open from midday on Thursday to ensure a smooth traffic flow.
China is waiving highway tolls for cars for the first time during the Golden Week holiday, but highway operators have been blamed for causing massive traffic jams because many kept on issuing and collecting toll passes, forcing motorists to stop at toll gates though they did not have to pay.
China Daily says property developers are lowering their expectations for holiday sales - traditionally known as "Golden September and Silver October" - this year, as statistics show a sales decline in August.
Shanghai Morning Post says few developers are offering discounts, despite fierce advertising campaigns.
Hong Kong newspapers continue coverage of the ferry disaster, as a three-day mourning began.
The Hong Kong Standard reports accounts by rescue workers of chaos at the scene, while Ming Pao Daily News says most of the victims have been identified.
The pro-Beijing Wen Wei Po newspaper reports condolences sent by foreign leaders and diplomats, including the one from UK Prime Minister David Cameron.
In other news, Ming Pao Daily News says China and Japan are stepping up their "propaganda battle" over the East China Sea islands dispute, with China publishing advertisements in Pakistani and US newspapers, and Japan handing out leaflets to foreign visitors.
Sing Tao Daily reports Taiwan's veteran pro-independence politician, former premier Frank Hsieh, is expected to start his first ever visit to China.
People's Daily say China has decided to award honorary medals to astronauts Liu Yang, Jing Haipeng and Liu Wang, who completed the Shenzhou-9 mission in June.