China morning round-up: Hong Kong ferry disaster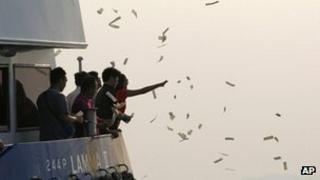 Newspapers across China lead with the Hong Kong ferry accident which left 38 people dead.
Papers including China Daily, People's Daily, Beijing News and Chengdu's West China City Daily report the maritime disaster on the front page.
Besides describing Hong Kong's rescue effort and accounts from survivors, the reports stressed the condolences sent by President Hu Jintao, Premier Wen Jiabao and Vice-President Xi Jinping, and the deployment of salvage vessels from the Ministry of Transport.
But as the Hong Kong Standard and Ming Pao Daily News report, Hong Kong Chief Executive Leung Chun-ying clarified that the mainland Chinese boats were only put on stand-by, and eventually left without participating in the rescue operation.
South China Morning Post says Beijing's response to the Hong Kong incident "raised questions, given that the [Hong Kong] government showed it was more than capable of handling the disaster on its own".
The Post says one "curious feature" was a report on the main evening news bulletin of state broadcaster China Central Television (CCTV), which said: "Comrades Hu Jintao, Wen Jiabao and Xi Jinping… issue important instructions, ordering the Hong Kong Special Administrative Region Government to spare no effort in searching for missing persons, treating the injured and comforting their relatives."
Some reports in Hong Kong highlight criticism that the salvage vessels' deployment and a visit to the hospital by Li Gang, Beijing's deputy top representative in Hong Kong, were seen as interference of the city's internal affairs under the "one country, two systems" principle.
Most Hong Kong newspapers, such as the AM730 newspaper, have turned their front-page lay-out black and white in a gesture of mourning. Editorials including that of Ming Pao Daily News call for a through investigation.
Also on Wednesday, Shanghai Daily and the Beijing Times report police in northwest Xian city detained a suspect who allegedly attacked the owner of a Japanese car during an anti-Japan protest on 15 September over the East China Sea islands dispute.
Police said the suspect hit Toyota Corolla owner Li Jianli with a U-shaped steering-wheel lock, causing him severe brain injury.
The Xian incident has sparked a national outcry. An editorial in Beijing News says those who assault fellow Chinese in the name of patriotism should be punished by law.
People's Daily and Shanghai Morning Post report Makiko Tanaka, Japan's new education minister, said there were "flaws" in Japan's history curriculum. Ms Tanaka said on Monday Japan needed more emphasis on the study of contemporary history.
People's Daily says the comments by Ms Tanaka, whose late father Kakuei Tanaka established diplomatic relations with China 40 years ago when he was prime minister, had "positive meanings" in repairing China-Japan relations.