China morning round-up: Holiday traffic jams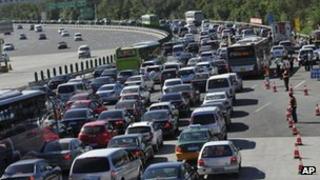 Many Chinese newspapers take a break during the Mid-Autumn Festival and National Day holiday, while those still publishing mark the occasion with reports of nationwide traffic jams.
Shanghai Daily says drivers and passengers spent time "walking their dogs, playing tennis and even keeping fit by doing push-ups" as they waited on highways across China.
The Beijing Times says massive jams were spotted in 16 provinces and municipalities. Highways linked to the capital saw numerous accidents, it said.
The chaos came on China's first-ever toll-free period on highways during major holidays.
A journey from Shanghai to Nanjing city 300km away took 10.5 hours to complete, Shanghai Morning Post quoted a driver as saying.
Guangzhou's Southern Metropolis Daily says some internet users ridiculed the millions of people who ended up admiring the full moon together on the highways, a major tradition of the Mid-Autumn Festival.
Beijing News' editorial urges the authorities to fine-tune the toll-free measures in order to relieve the traffic pressure.
The eight-day holiday will also see many couples getting married, said a report by the official Xinhua news agency published in Shanghai Daily, and some people are suffering from "the holiday blues" due to too many wedding invitations, which means they have to spend a lot on cash gifts.
Shanghai Morning Post said the city "had urgently trained" an extra 1,000 masters of ceremonies to cater to the huge demand, and "contingency teams" of make-up artists, florists, chauffeurs and photographers had been put on stand-by.
People's Daily publishes the annual National Day editorial, urging Chinese citizens "to endeavour on the road of China that is full of hope".
In Hong Kong, Ming Pao Daily News' editorial warns the rise of "leftist [pro-Beijing] extremists" might have influenced how Beijing deals with Hong Kong affairs, saying this will have an "extremely negative" impact on Hong Kong's stability.
Newspapers including People's Daily publish a report by Xinhua saying "officials and the public across the country resolutely support" the Communist Party's decision to expel top politician Bo Xilai.
Ming Pao Daily News says Wang Yang, party chief for Guangdong province, was the first to declare his support for ousting Bo Xilai, saying Mr Bo had brought "immense damage to the reputation of the party and the state".
South China Morning Post says Mr Bo is likely to stand trial before the start of the national party congress on 8 November "as Beijing scrambles to limit the fallout from his scandalous downfall".
People's Daily also reports Beijing's criticism of comments by Seiji Maehara, Japan's former foreign minister, on the East China Sea islands dispute.
Mr Maehara, in response to Chinese Foreign Minister Yang Jiechi's address to the UN General Assembly, said Mr Yang had "distorted historical facts", Kyodo news agency reported.
Chinese Foreign Ministry spokesman Hong Lei said Mr Maehara's comments "were extremely wrong", People's Daily reported.