Son defends China's Bo Xilai as 'devoted and upright'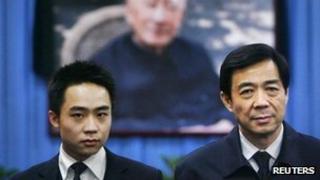 The son of accused Chinese politician Bo Xilai has reportedly spoken out in defence of his father, who has been expelled from the Communist Party amid allegations of abuse of power.
Bo Guagua, who is believed to be in the US, issued a statement saying he found it hard to believe the allegations.
He said his father was "upright in his beliefs and devoted to duty".
Bo Xilai fell from favour in a scandal that saw his wife Gu Kailai convicted of murdering Briton Neil Heywood.
'Contradict everything'
Bo Guagua's statement is rare, but reporters in Beijing say they have verified it as his. It makes no mention of his mother.
In it, he says: "Personally, it is hard for me to believe the allegations that were announced against my father, because they contradict everything I have come to know about him throughout my life.
"Although the policies my father enacted are open to debate, the father I know is upright in his beliefs and devoted to duty.
"He has always taught me to be my own person and to have concern for causes greater than ourselves. I have tried to follow his advice."
Bo Guagua has been studying at Harvard in the US.
BBC Asia-Pacific analyst Viv Marsh says Bo Guagua's privileged education overseas and once flamboyant lifestyle fuelled public resentment in China of the pampered offspring of wealthy officials.
But she says there is no indication that the Chinese authorities want Bo Guagua to answer any charges of his own.
Bo Guagua says of his father's case: "At this point, I expect the legal process to follow its normal course, and I will await the result."
His last statement, ahead of his mother's trial, was brief. He merely said he had submitted a witness statement and the "facts will speak for themselves".
In April, Bo Guagua published a letter saying he was "deeply concerned" about the scandal.
He also defended his academic records and attempted to dismiss some of the most colourful rumours about his lifestyle.
British businessman Neil Heywood died in a Chongqing hotel in November 2011.
Gu Kailai was convicted of poisoning him and given a suspended death sentence.
Chinese authorities said the killing was the result of a business deal that went awry.
The scandal has overshadowed the party congress that will oversee China's change of leadership, which is expected to see Xi Jinping replace Hu Jintao as president. It will begin on 8 November.
Bo Xilai, 63, who had been a prime candidate for a top post, is expected to face charges of corruption, abuse of power, bribe-taking and improper relations with women.
It relates to his time as Communist Party boss in the south-western metropolis of Chongqing, as an official in Dalian and Liaoning provinces, and as minister of commerce.