Bo Xilai to lose Congress seat as China prepares charges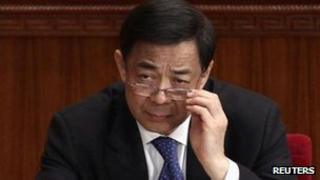 Top politician Bo Xilai is to be stripped of his seat in China's national legislature, state media say, paving the way for criminal charges.
National legislators are generally immune from prosecution but Mr Bo's Chongqing municipality has asked for his removal from the Congress.
Mr Bo was expelled from the Communist Party on Friday, accused of abuse of power and corruption.
His wife was given a suspended death sentence for murdering a UK national.
In August, Gu Kailai was found guilty of murdering British businessman Neil Heywood in November 2011.
The scandal has overshadowed the party congress that will oversee China's change of leadership, which is expected to see Xi Jinping replace Hu Jintao as president. It will begin on 8 November.
Before the scandal broke, 63-year-old Mr Bo had been a prime candidate for a top post.
China's state media earlier warned that no-one, no matter what rank, would be immune from Communist Party discipline.
On Saturday, the official Xinhua news agency said the Standing Committee of the Chongqing Municipal People's Congress had decided to remove Mr Bo from his official post as deputy to the national legislature - the 11th National People's Congress.
The National Congress is expected to confirm the decision, clearing the way for criminal charges, as national legislators have immunity from prosecution or arrest unless special approval is given.
Mr Bo is then expected to face charges of corruption, abuse of power, bribe-taking and improper relations with women.
The BBC's Martin Patience, in Beijing, says Mr Bo's career is over and he will almost certainly spend time in jail.
Xinhua earlier said that the Communist Party must recognise the "perennial, complex and arduous nature of the anti-corruption fight".
The battle against corruption should be given a more prominent place on its agenda, Xinhua reported, "leaving no room for corrupt figures to hide within the party".
'Huge bribes'
Mr Bo has not been seen in public since mid-March, shortly after the scandal erupted and it was announced he was under investigation. He was suspended from his party posts in April.
Xinhua said Mr Bo "took advantage of his office to seek profits for others and received huge bribes personally and through his family".
It added: "Bo's behaviour brought serious consequences, badly undermined the reputation of the party and the country, created very negative impact at home and abroad and significantly damaged the cause of the party and people."
Xinhua said the violations included Mr Bo's time as an official in Dalian and Liaoning provinces, and as minister of commerce.
"Bo had affairs and maintained improper sexual relationships with a number of women," the statement added.
Xinhua said Mr Bo had been expelled from the party and the elite decision-making Politburo and Central Committee as he had "abused his power, made severe mistakes and bore major responsibility in the Wang Lijun incident and the intentional homicide case of [Gu Kailai]".
Wang Lijun was Chongqing's former police chief who was sentenced to 15 years in jail for ''bending the law, defection, abuse of power and bribetaking" in the Neil Heywood case.