Chinese children 'killed in Guangxi Zhuang axe attack'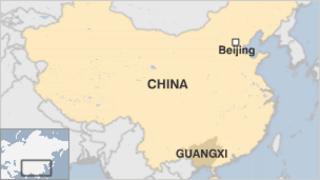 A man armed with an axe has killed three children and injured another 13 at a childcare centre in southern China, state-run media reports.
The man rushed into the centre in the autonomous region of Guangxi Zhuang in the middle of the day and began slashing the children, Xinhua said.
The age of the victims has not yet been reported.
A man identified only as Wu was later arrested by police in Pingnan county in connection with the attack.
A police investigation is now under way.
The killings come despite raised security around Chinese childcare centres and schools following a spate of similar attacks in recent years.