Bo Xilai scandal: Wang Lijun verdict 'due on Monday'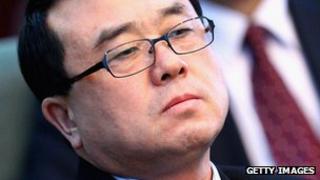 The verdict for the case against the ex-police chief at the heart of China's biggest political scandal in years will be delivered on Monday, a court official says.
The two-day trial of Wang Lijun for defection, abuse of power and bribe-taking took place in Chengdu this week.
Mr Wang's flight to a US consulate in February sparked events leading to the downfall of top politician Bo Xilai.
The case is being closely watched for signs of how Mr Bo will be dealt with.
Mr Bo's wife, Gu Kailai, was later convicted of killing the British businessman Neil Heywood and given a suspended death sentence, after a trial that lasted a day.
Mr Wang is charged with helping cover up her crime.
"The verdict will be announced at 8:30 am (12:30 GMT, Sunday) on September 24 in our court," an official in the Chengdu court news department was quoted as saying in a Reuters report.
'Personal gain'
After Mr Wang's trial ended on Tuesday, a court official read out a statement saying the defendant did not contest the charges.
This left little doubt that the verdict, when it comes, will be a guilty one, correspondents said.
The indictment against Mr Wang said he knew that Gu was a murder suspect, but "consciously neglected his duty and bent the law for personal gain", Xinhua reported.
Mr Wang's flight to the US consulate proved an embarrassment for China and threw up issues involving diplomacy and state secrets.
Most analysts expect him to be given a suspended death sentence, similar to the one handed to Gu.
At a separate trial on 10 August, four senior police officers from Chongqing admitted to charges of covering up evidence linking Gu to the murder. A court official said they had been given terms of between five and 11 years in prison, AFP reported.
The trial comes ahead of a key party leadership congress in China, expected in the coming weeks.
Mr Bo, Mr Wang's former boss in Chongqing, had been tipped for promotion to the top leadership ranks at the party congress before his downfall.
He has not been seen in public since the scandal erupted and is said to be under investigation by the party's disciplinary officials. It is not clear if he will face any criminal charges himself.