China morning round-up: Mekong River trial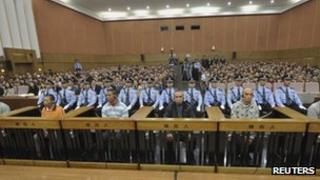 Newspapers extensively covered the trial of six foreigners accused of killing 13 Chinese sailors on the Mekong River in October 2011. The trial is being held in China's south-west Yunnan province.
The murdered sailors were aboard two cargo ships registered in China. They were attacked on the Mekong River near the border of Thailand and Burma.
China Daily and the Global Times reported the first day of the three-day trial in Kunming City on their front pages.
Among the six men accused - who are all foreigners or stateless - is 43-year-old Burmese citizen Naw Kham. Reports say he denied all the charges against him, including murder.
Regional papers such as the Shanghai Morning Post and the Beijing Times described the unusual elements of this trial, especially the simultaneous translation from Chinese to Thai and Lao inside the court, which is rare in China.
Editorials in Beijing News and the Beijing Times say this trial demonstrates China's "judicial sovereignty and civilisation".
China claims jurisdiction over the case, saying that the incident took place aboard vessels flying the Chinese flag, the editorials say.
They say that relevant international conventions establish China's jurisdiction over such cases.
But People's Daily reported one of the prosecutors as telling journalists that it would be impractical to extradite nine other Thai soldiers to China to be tried due to the possible involvement of military secrets. Thai police are investigating the soldiers' alleged participation in the attacks.
Criticism of Japan over the East China Sea islands dispute also continued on Friday.
People's Daily published a commentary in its domestic edition, comparing Japan's control over the islands - known as Senkaku in Japan and Diaoyu in China - to theft. The paper's website promoted the article as its top front-page story.
China Daily and People's Daily reported on Premier Wen Jiabao's speech at the EU-China summit in Brussels - his last appearance as premier.
People's Daily also reported that Vice-President Xi Jinping met with foreign state leaders at the China-Asean expo in southern Guangxi region - his first major diplomatic engagement after an unexplained two-week absence.
Xi Jinping met with US Defence Secretary Leon Panetta on Wednesday in Beijing. Beijing News and the Shanghai Morning Post said Mr Panetta was given a rare visit to a North Sea Fleet naval base in Qingdao before he wrapped up his China visit.
Beijing News said newspapers in the US have expressed disapproval of "China-bashing" comments by US President Barack Obama and his Republican challenger Mitt Romney.
A Global Times bilingual editorial says: "As US elections often involve China-bashing, China cannot remain out of the affair. China should play a role in the elections and correct the attitude of both candidates and the American public toward China."
China Daily and Shanghai Daily reported that the government is proposing an extension of its state elderly care system to include those who have lost their only child.
Recent reports say many of the couples who gave birth to only one child under China's One Child Policy found themselves with no social security coverage after the unexpected deaths of their children.