China row after beggars are fenced off at temple fair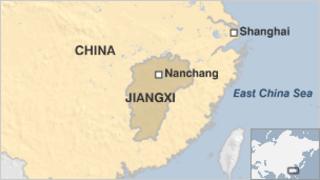 Officials in China's Jiangxi province has been criticised for putting beggars behind an iron fence during a recent temple fair, local media report.
Pictures published by newspapers show fences as tall as a man separating beggars from worshippers outside the Taoist monastery in Nanchang city.
Chinese internet users criticised the measure as an insult and inhumane.
But the local government says the fences were to protect the beggars from visitors to the city.
Reports say the pictures were taken by a photographer outside the Wanshou Palace on 15 September, with beggars young and old sitting under big tents, lining up their buckets on the other side of the fence to collect donations from passers-by.
The government of Xinjian county - where the monastery is situated - says the fenced-off area was a "temporary shelter" where beggars can go in and out freely.
Local welfare authorities had "mobilised beggars to move willingly into the temporary shelter" in order to prevent accidents such as stampedes or people being hit by passing vehicles, said a brief statement published on Xinjian government's official Twitter-like weibo account.
Drinking water, food and tents affording protection from the sun had been provided, said the statement.
But many people denounced the practice on China's weibo microblogs.
"This is intolerable. Beggars are human beings, too!" said one Sina Weibo user from Chengdu in Sichuan province.
Situated on Xishan Mountain, the Wanshou Palace dates back nearly 1,700 years, according to the official website.
A temple fair is held every year in the seventh month of the Chinese lunar calendar. On the 30th day of the month - which fell on 15 September this year - worshipper numbers peak.
A separate statement published by the Xinjian government on Wednesday says more than 200,000 people visited the monastery on 15 September.