China morning round-up: Wang Lijun in court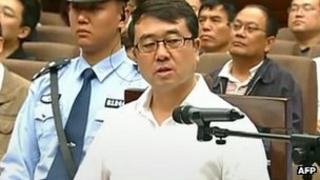 Newspapers in mainland China are downplaying a key trial of former Chongqing police chief Wang Lijun, carrying only a state media report on the trial in central Chengdu city.
Mr Wang, who sparked off events leading to the biggest political scandal in China in years, was charged with defection, abuse of power and bribe-taking. He did not contest the charges against him, court officials said.
Newspapers including the Chongqing Economic Times and China Daily published only a report by the official Xinhua News Agency in their inside pages, without further commentaries.
People's Daily publishes the Xinhua report on page 16 of its domestic edition, while the copy in the Overseas Edition was on page 4.
The Global Times, however, carried the Xinhua report on the front page.
Shanghai Daily published a report summarising material from other news agencies on page 2, saying Mr Wang "looks relaxed during the hearing" as shown on state television.
Hong Kong's Ming Pao Daily News said analysts believe the court statement issued after the trial listed many details that were favourable to Mr Wang - such as his contribution to the investigation of Gu Kailai's murder of British businessman Neil Heywood - which implied he might receive a lenient sentence.
Sing Tao Daily also noted that Mr Wang was not wearing a prison uniform - contrasting with most criminal trials in China. That was also seen during the trial of Gu Kailai, wife of Mr Wang's former boss, Bo Xilai, in August. She was convicted of the murder of British businessman, Neil Heywood.
Quoting Beijing political scientist Zhang Ming, South China Morning Post said the court statement "ignored [Mr] Wang's wrongdoings when he was sweeping away organised crime in Chongqing together with Bo [Xilai]". This implied that Mr Bo, who was sacked from his post as Communist Party chief of Chongqing, is politically safe.
Most editorials remained focused on the ongoing China-Japan row over the disputed East China Sea islands as US Defence Secretary Leon Panetta met his Chinese counterpart Liang Guanglie in Beijing on Tuesday after a visit to Tokyo.
China Daily's editorial praised Mr Panetta for "singing a harmonious tune in Beijing" as he talked about building a strong military-to-military relations with China.
A front-page commentary in the People's Daily Overseas Edition said whoever chose to stand on Japan's side in the islands dispute "is deemed to lose", but the US understood it could gain more by working with China.
But the Global Times' blingual editorial said people should not have "illusions" that the US would be impartial.
It said: "In other disputes China has with its neighbours, the US directly or indirectly sides with China's opponents. The question is how much weight the US will put behind Japan."
A second Chinese editorial in the Global Times said it was "irresponsible" to suggest that the Chinese government has sanctioned any anti-Japan protests.
Also on Wednesday, China Daily and People's Daily reported an address by President Hu Jintao saying China "extremely values" co-operations with other developing countries in scientific research, particularly in dealing with common problems such as prevention of infectious diseases.
The Global Times and China Daily said China's railway ministry has ordered railway stations to replace their English station name signage with Pinyin.
For instance, Beijing South Railway Station will become Beijingnan Railway Station, said the reports - "nan" means south in Chinese.
Shanghai Morning Post says a local court judge in Henan province has been detained for handing down a controversial ruling over a traffic accident last September that killed three people.
The judge sentenced a driver to two years imprisonment in March - lower than the legal requirement of three years' minimum - as the driver "actively compensate(d) the victims", said the report. It turns out that the compensation was never paid, the report said.