Japan-China row: Media worried about economic impact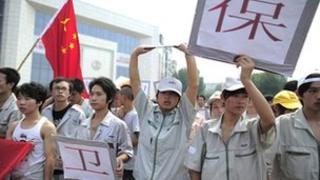 As the tension between China and Japan over the disputed Diaoyu or Senkaku islands continues, concern is growing in the media on both sides about the possible economic impact of anti-Japanese protests in China.
In China, several papers urged demonstrators to avoid violence, and not to target Japanese businesses or individuals.
One Japanese paper warns that the dispute could affect planned talks on a free trade agreement between Japan, China and South Korea, while another suggests Tokyo should consider repatriating all Japanese citizens resident in China.
'Extreme actions'
Although most commentators in China continue their calls for Beijing to stand firm in the dispute, there are several appeals for moderation.
"We must be clear about the boundary between patriotism and beating, smashing, looting and other criminal acts, and make a distinction between the Japanese government and Japanese right-wingers and the Japanese public and Japanese companies," the Xin Jing Bao paper - known as "The Beijing News" in English - says in an editorial.
"Thousands of Japanese overseas students, corporate employees, visitors etc, in China, are innocent. We must never vent our anger at them."
Writing on the Caixin media website, Zhang Jifeng, of the Academy of Social Sciences, believes the unrest could damage Japanese investment in China.
"China's vast market is still its most attractive advantage for Japanese companies, but extreme actions by the public will make Japanese companies worry about the safety of their factories in China," he says.
There is also scepticism about calls for a boycott of Japanese goods. In Zhongguo Xinwen She, an article by Jiang Yuechun, of China's Institute of International Studies, says it will have a limited impact in the short term, as trade with other Asian countries can help Japan buffer the impact.
Writing in Huanqiu Shibao, He Maochun, of Tsinghua University, on the other hand, believes that the boycott has already left several Japanese companies in China unable to operate normally.
But, he warns, targeting businesses - many of them "with goodwill towards China" - rather than the Japanese right-wing, may not be the right path.
"These people have 'suffered a slap' for no reason and are suffering in silence," he says.
'Intolerable'
In Japan, the Asahi Shimbun daily reports "fear and anxiety" among Japanese people living in China, and that some Japanese corporations have taken to hiding their signs to keep themselves from becoming targets.
The Mainichi Shimbun daily accuses Beijing of appearing to have given its tacit approval to the unrest.
"Such acts of violence and destruction under the guise of patriotism or anti-Japan protests are intolerable," it says in an editorial.
"China's response has raised questions as to whether China is a law-governed country that abides by international rules."
The daily adds that Tokyo should consider ways to protect its citizens in China, including the possible repatriation of all Japanese residents from the country.
The right-wing right daily Sankei Shimbun does not mince its words, directly blaming Beijing for the "unforgivable" violence.
"The Chinese government appears to be inflaming the young generations, who have been indoctrinated with biased 'patriotic education'," the paper says.
"The Chinese authorities must secure the safety of Japanese people and Japanese companies in China and punish the rioters."
Meanwhile, Japan's third-largest daily, Mainichi Shimbun, warns that the protests could "cast a dark cloud" over negotiations for a free trade agreement (FTA) between Japan, China and South Korea.