China's Vice-President Xi Jinping in public appearance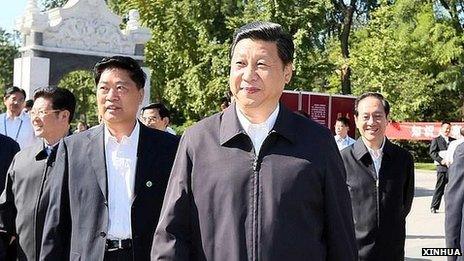 Chinese Vice-President Xi Jinping has appeared in public for the first time in two weeks.
Mr Xi, who is expected to become China's next leader, attended an event on Saturday to mark national science day, Xinhua news agency reported.
No official explanation has been given for his absence, which fuelled widespread speculation.
There were rumours about the state of his health and suggestions of power struggles within the Communist party.
However, on Saturday China's official news agency carried a brief report of Mr Xi's visit to the China Agricultural University in Beijing with a photograph showing the vice-president smiling and walking with other officials.
Mr Xi, 59, cancelled meetings with four foreign dignitaries including US Secretary of State Hillary Clinton.
On Thursday, Mr Xi was cited in state media for the first time in 12 days, expressing condolences over the death of a former general.
During his absence, searches for Mr Xi's name on China's Twitter-like weibo micro-blogging sites have been blocked.
He is expected to succeed President Hu Jintao as leader of the ruling Communist Party at a crucial meeting due to be held some time next month.
The BBC's Damian Grammaticas in Beijing says Mr Xi's reappearance seems designed to put to an end days of feverish speculation.
China's leadership transition now looks back on track, he adds.