Chinese media cite absent leader Xi Jinping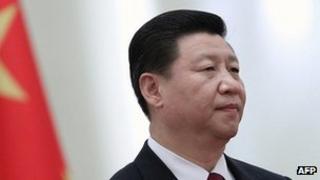 Chinese Vice-President Xi Jinping has been cited in state media - the first reported communication since he disappeared from view 12 days ago.
Mr Xi's name appeared in the Guangxi Daily newspaper with those of several other officials offering condolences over the death of a former general.
Mr Xi is expected to become president at a party congress later this year.
But his absence - including cancelled meetings - has sparked rumours from sporting injury to serious illness.
The Communist Party website and China News Service carried similar reports to that of Guangxi Daily following the death of former general Huang Rong.
"After the death of comrade Huang Rong, Hu Jintao, Xi Jinping, Li Yuanchao, Zhu Rongji, [and] Li Zhaozhuo expressed deep condolences to Huang's family through different means," according to the news report.
However Mr Xi remains out of public view and there is no mention of his whereabouts in the report or of how he paid his respects. There has been no official explanation for his absence.
The speculation began after the Chinese vice-president cancelled meetings with visiting foreign leaders, which is unusual.
Mr Xi, 59, did not attend scheduled meetings with US Secretary of State Hillary Clinton, Danish Prime Minister Helle Thorning-Schmidt and Singapore Prime Minister Lee Hsien Loong.
China's Foreign Ministry has shed no light on the issue.
"I have no information to offer you on this," spokesman Hong Lei said at a regular briefing on Wednesday, amid multiple questions from journalists.
Searches for Mr Xi's name on China's Twitter-like weibo micro-blogging sites have been blocked.