China morning round-up: Yunnan quakes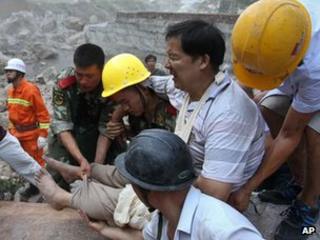 Newspapers continue coverage of the earthquakes in southern Yunnan and Guizhou provinces as rescue efforts continue.
The official death toll for the 7 September series of quakes was 81 as of Sunday, reports the Global Times, after a two-year-old boy died from injuries he received in an aftershock on Saturday. China Daily reports three of the deceased were pupils killed by collapsed school buildings.
Hong Kong's Ming Pao Daily News says the end of the golden rescue period of 72 hours after the first quake is fast approaching, but there were no more survivors found on Sunday.
Local residents blamed excessive mining for the loss of life, Ming Pao reports.
Meanwhile, the Beijing Times reports transport of aid to the mountainous area is being hampered by damaged roads and China Daily and People's Daily cover Premier Wen Jiabao's tour of the area.
Mainland Chinese newspapers such as Beijing News also report Hong Kong's Legislative Council election, which took place Sunday.
The Hong Kong Standard calls it a "neck and neck" race between the pan-democrats and the pro-Beijing camps, with ballots still being counted on Monday morning.
Ming Pao says the election saw a high turn-out of 53%, with 1.83 million people casting their votes. Analysts said the ongoing debate on a new "national education" curriculum stimulated turn-out, it reports.
The editorial in pro-Beijing Wen Wei Po newspaper accuses people opposed to "national education" of "hijacking" the election, while Ming Pao's editorial urges the Hong Kong government to listen to people's worries over the issue.
The Global Times' bilingual editorial says: "We are surprised by the strong emotions and lack of rationality in Hong Kong society. On this issue, Hong Kong appears to be like Cairo one year ago, rather than a developed democratic society."
Also on Monday, China Daily, Beijing News and others report the brief chat between Chinese President Hu Jintao and Japanese Prime Minister Yoshihiko Noda on the sidelines of the Asia-Pacific regional summit in Vladivostok, Russia.
Reports say Mr Hu urged Mr Noda "to realise the seriousness of the tension" over the purchase of a group of disputed islands in the East China Sea, known as Senkaku in Japan and Diaoyu in China.
China Daily's editorial urges Beijing to "get tougher on Japan" over the dispute.
Beijing News and others also report China's latest inflation rate released on Sunday. Price hikes in fresh vegetables have lead the consumer price index to rebound to 2%, said the reports.
Premier Wen Jiabao has called for more equality in basic education, report Shanghai Daily and Beijing News, as more parents who can afford it choose to enrol their children in better schools far away from their homes.