Flag ripped off Japan envoy's car in Beijing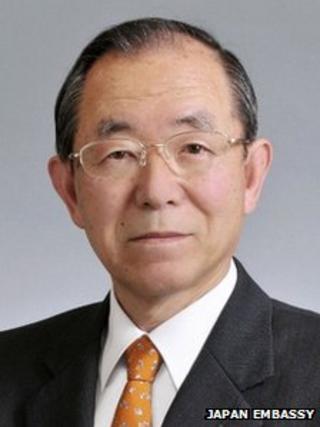 An assailant has snapped the flag off the car of Japan's envoy to Beijing, amid high tension between the nations.
Japanese officials said two cars forced ambassador Uichiro Niwa's vehicle to stop before a man jumped out and snapped off the flag.
The embassy lodged a complaint, and China's foreign ministry was later quoted expressing "deep regret".
The two nations are locked in a bitter row over a small group of islands they both claim in the East China Sea.
The issue has led to the most widespread anti-Japanese protests in years.
Analysts say such protests could not happen without tacit consent from Beijing.
China and Japan both claim sovereignty over the island grouping, called Senkaku in Japan and Diaoyu in China.
Japan administers the islands, but China says the rocky grouping has been part of Chinese territory since ancient times.
Pro-China activists and Japanese nationalist groups have both landed on the islands in recent weeks, pushing the issue to the top of the political agenda.
Japan's embassy issued the first account of the attack on Mr Niwa's car, saying his car was forced to stop and was then attacked.
But Japan's foreign ministry later played down the incident, claiming that his car had been caught in traffic, and that the word attack was too strong.
Chinese state media have not reported the incident, but Japan's Kyodo news agency quoted a Chinese foreign ministry official as expressing regret.
In recent weeks thousands of people have taken to the streets in Shenzhen, Guangzhou and a number of other cities demanding that Japan leave the islands.
In the south-eastern city of Shenzhen, a Japanese-branded police car was overturned and smashed with a metal bar.
Protesters waved Chinese flags, burned images of the Japanese flag and shouted slogans denouncing Japan's claims over the islands.
The disputed islands lie on a vital shipping lane and are surrounded by deposits of gas.
The latest flare-up in tensions was sparked when the nationalist governor of Tokyo suggested his authorities could buy the islands from their private owner.
On Monday the Japanese government turned down a request by the local authorities in Tokyo to send surveyors to the islands.