Anger at Olympic 'cover-up'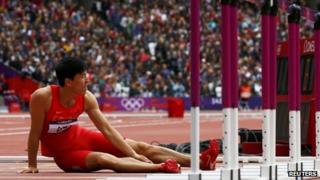 The moment Liu Xiang crashed out of the 110m hurdles was, for millions of Chinese television viewers, one of the most dramatic, heart-rending moments of the London Olympics.
But now many have been left feeling duped after it emerged that almost everyone, except for the television audience, knew Liu, China's great hope on the track, was injured and unlikely to have a chance of winning gold.
What's particularly angered people is that CCTV, China's state broadcaster, knew Liu Xiang was not fit and scripted its whole coverage in advance.
The revelation was front-page news in the Oriental Guardian newspaper. Its headline said: "Liu Xiang knew; Officials knew. Only the viewers foolishly waited for the moment of miracles."
'Old athlete'
When Liu Xiang hit the first hurdle and fell, CCTV's commentator Yang Jian was almost in tears, his voice choking, his commentary emotional.
"He's 29, an old athlete... he should rest now." Yang Jian told the viewers.
"This is the worst outcome I have thought of today. If an athlete does not have a good leg, it's like a soldier without a gun."
But, the Oriental Guardian says,"Yang Jian's commentary was too perfect to be real." The words, and the tears, were pre-scripted.
It says the deception came to light on Wednesday, when the head of CCTV's commentary team admitted at a public seminar that Yang Jian had heard that Liu had a serious injury.
The paper says CCTV's managers instructed their commentator to prepare four separate scripts to cover all eventualities. "The 'crying' version was one of the four."
Many others have picked up the story, including the Shanghaiist blog and the China Youth Daily.
Liu Xiang is a national hero in China. He won China's first-ever track and field gold at the Athens Olympics in 2004.
He was the face of the Beijing Olympics and a stunned nation watched him limp off the track there too, sidelined by the same Achilles-tendon injury.
The state-controlled English-language China Daily says "the craze that has followed him is similar to Yao Ming's effect on China's basketball... almost all Chinese sports fans' hearts synchronise with the fluctuations of Liu's performance."
'Truly disgusted'
It's unsurprising then that so many now feel deceived and angered, emotionally manipulated by CCTV's commentary. The story has drawn well over a million comments on China's weibo micro-blog service.
"I feel truly disgusted. Is it worth the true feelings of so many people? Emotions and deceptions have been perfectly merged. Tears and courage have been downgraded to be worthless. Media that has no bottom line is a rotten entity without hope," wrote one user.
Others were even more blunt, posting comments like, "You lied to us, cheated our feelings. You guys are rubbish," and "Nothing is impossible in this world. We no longer want to be a public that doesn't know the truth."
And it's not just CCTV, but China's government too, that is in the firing line.
"This can only happen in China. Acting and fraud and many skills are learnt from the government," said one user.
"The society has no trust. This original sin does not come from the people. Trust has to be built by a trustworthy government and media," wrote another.
China's government already faces a public that is sceptical about the honesty of what they hear from officials and the official media.
The coverage of Liu Xiang's Olympics seems to have provided one more reason for people to be cynical.