London 2012: China assesses Olympic 'journey'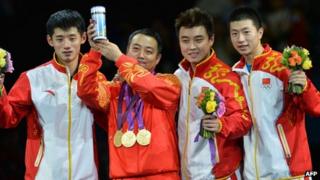 As the 2012 Olympic Games came to a close in London, China's press and internet users praised their athletes' achievements.
The Games saw China finish with 38 gold, 27 silver and 22 bronze medals, putting it second on the medal table behind the US.
Although it bagged 51 golds in the 2008 Beijing Games, sports officials said this was the best-ever result in an Olympics not hosted by China, seemingly not greatly bothered by the fact that China was beaten by the US.
Calling the Olympics a source of inspiration, state-run China Daily newspaper said "the journey is more important than the destination".
"For all athletes, as long as they have tried their best, they deserve the respect of spectators," it said.
"I think the general public was very happy with the result, with China finishing second after the US," Dong Jun, a journalist with China Radio International (CRI), told the BBC.
"China's 2008 delegation was huge," David Yang, editor of the China Sports Review website, pointed out. "The delegation for London was roughly 60% the size."
"For a major sports nation like China, this was already a streamlined delegation - so their performance was splendid," Mr Yang said.
'Unfairness'
But it is clear not all Chinese people see the London Games as a happy experience. Chinese media have complained of unfair treatment meted out to Chinese athletes.
This includes questions over the record-breaking performance of female swimmer Ye Shiwen and the disqualification of two Chinese badminton players for match-throwing.
Chinese players also hit out at refereeing in events such as gymnastics and track cycling.
People's Daily newspaper, the mouthpiece of the Chinese Communist Party, published an editorial on Monday, saying athletes "faced naivety and bias from individual referees as they imposed punishments based on double standards".
And some netizens are very angry - it is not hard to find comments on China's Twitter-like weibo sites calling the London Games "a total failure".
"London Olympics were the worst Olympics ever," said a Sina Weibo user in southern Guangdong province. "It has hosted the Games three times, but it was full of blunders."
"Britain, Germany, Japan and South Korea won shameless appeals, but China was always unfairly treated. I am so angry," said a Tencent Weibo user in northern Hebei province.
But there are some micro-blog comments that are positive, and China Sports Review's David Yang thinks perceived slights have been blown out of proportion.
"I think it has happened at every Olympic Games in the past," said Mr Yang, who believes harsh comments are merely venting.
"All sports competitions - including the Fifa World Cup and the Uefa European Football Championships - all face the same problems. Refereeing is always a controversial issue in the media."
Investment needed
Chinese sports officials said the country saw major breakthroughs in many "less-developed events", such as speed walking, sailing and fencing, and highlighted the fact that 60% of athletes were first-time Olympians.
But the authorities seem to have spotted one issue that needs to be tackled.
"While we have improved, we still lag behind the world's elite in reserve talent cultivation and grassroots promotion in some major events like cycling, and track and field," Sports Minister Liu Peng was quoted by China Daily as saying.
CRI's Dong Jun told the BBC: "I think after the spike for the Beijing Games, the Chinese sports community is looking for more platforms to be established [to bridge the gap] between the grass root level and the highest level."
David Yang believes more concrete actions are needed to improve sports education at schools and that more funding should be concentrated at the bottom, rather than the top.
He told the BBC: "I think they [the Chinese Olympians] are already superb. Now you can maintain these standards, or instead, how about giving more chances to ordinary people?"