Xinjiang: China jails 20 for terrorism and separatism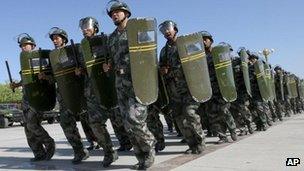 Chinese courts have jailed 20 people on terrorism and separatism charges in the western region of Xinjiang.
The charges included making explosive devices, promoting religious extremism and plotting "holy war".
Names of the accused published in official media suggested they were Uighur Muslims, who make up about 45% of Xinjiang's population.
The authorities recently vowed to crack down on separatism, three years after the area suffered deadly ethnic riots.
State media said the sentences were handed down in courts in the regional capital, Urumqi, and the cities of Kashgar and Aksu.
"A vast amount of evidence shows that the accused criminals carried out a lot of preparatory work in planning violent terror activities and set up a formal terror organisation," said a report in the People's Daily, the Communist Party mouthpiece.
The report did not say when the cases were completed.
Dilxat Raxit, spokesman for the exiled World Uyghur Congress, said the government was using terrorism as an excuse to punish Uighurs who oppose the system.
"The aim is to terrorise Uighurs into abandoning their rights," he said.
Exiled Uighur groups accuse the Chinese state of trying to crush their culture and subjugate their religion.
But the Beijing authorities say they are fighting only violent extremists who want to take over the region and form an independent Islamic state.
Xinjiang is the country's most westerly region and borders former Soviet states.
China witnessed its worst ethnic violence in decades in 2009 when riots erupted between Han Chinese and Uighurs in Urumqi.