China morning round-up: Bo Xilai's wife charged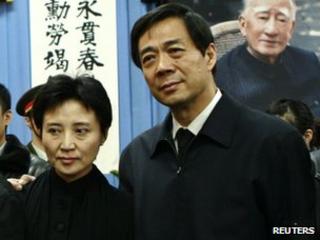 Many newspapers report Gu Kailai, wife of disgraced Chinese politician Bo Xilai, has been charged with murder , but as of 0400GMT few carry commentary or opinion pieces.
Most newspapers, from China Daily to Chongqing Economic Times , carry only the report from the official Xinhua news agency - a common phenomenon when news deemed sensitive is reported in China.
The Beijing Times gives a brief timeline of the case.
The Global Times' bilingual editorial says: "A trial held according to law will strengthen the Chinese people's confidence in the country's legal system."
"So far, it has sent a message to society that nobody, regardless of his or her status and power, can be exempt from punishment if he or she behaves unscrupulously, especially if he harms another person's life."
Hong Kong's Ming Pao Daily News says although Ms Gu's charges could carry the death penalty, some Chinese legal experts believe she might not get capital punishment given her connections.
Xinhua's report did not mention Bo Xilai, but Ong Yew-kim, a Chinese legal expert in Hong Kong, told Ming Pao that Beijing would make his fate clear no later than October so as to clear any possible barriers ahead of the expected Communist Party congress which will see the leadership change.
The pro-Beijing Wen Wei Po newspaper also mentioned French architect Patrick Devillers, who is alleged to have links to Mr Bo and Ms Gu, stressing he went to China earlier this month as a witness "purely voluntarily, unaccompanied by French consulate officials".
China Daily and many other papers lead with the news that the death toll from the Beijing floods has hit 77 .
People's Daily published a list of the names of all 66 identified victims. Beijing News gives the same details with a distribution map.
Guangzhou's 21st Century Business Herald asks why it took six days for Beijing's municipal government to release the updated death toll. Officials said it took time to confirm the victims' identities.
Previous reports suggest netizens were angry about the delay in releasing such information, criticising Beijing for a perceived cover-up.
Beijing News' editorial says publishing names of the victims is a basic courtesy that a city should pay.
A second editorial in the Global Times says the government should make publishing disaster information "a routine", while noting that death tolls "used to be a 'state secret'".
With the opening ceremony of the London Olympics just hours away, the Global Times publishes comments from Xiao Tian, deputy chef de mission of the Chinese Olympic delegation, that China might not be able to lead the gold medal tally again as they face "unprecedented difficulties" of having no home advantage.
Mr Xiao's comments came as the world-renowned Chinese gymnastics team suffered another heavy blow after its gold hopeful Teng Haibin pulled out due to muscle injuries, says the China Daily .
Beijing Times says Malaysian badminton player Lee Chong-wei is recovering well from his ankle injuries. Lee is seen as the most important rival to China's Super Grand Slam champion Lin Dan.
People's Daily Overseas Edition publishes a feature about Chinese volunteers at the London Games, while a commentary in its domestic edition calls for the Games to be "a festival of peace".