China morning round-up: Floods and Olympics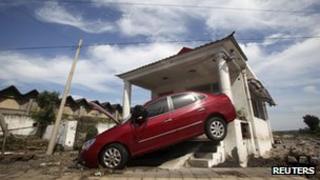 The aftermath of the Beijing floods still dominates newspaper headlines, but Chinese media are also embracing Olympics fever.
The official death toll from the weekend disaster remains 37, but Hong Kong's Ming Pao Daily News says a microblog message calling for a rally demanding an accurate number be released has received considerable attention.
Wei Dedong, an associate professor of philosophy at Renmin University, called for a nationwide rally on 28 July, the report said, but the message was censored after multiple retweets.
In face of public criticism over a perceived lack of transparency, the municipal government reaffirmed a promise to publish information on casualties in a timely manner, Beijing News says .
A People's Daily commentary says death tolls should no longer be a "sensitive issue", and only by releasing information in a timely manner could the government regain its credibility.
But the Global Times is unhappy with netizens' criticism of the authorities.
Its bilingual editorial says: "Officials' empty speeches have often been mocked because they are of no help in solving actual problems. It is worth considering whether empty chanting is developed and encouraged in cyber space. It occupies the moral high ground, but brings no real solution."
Beijing Times and Beijing News report the resignation of Mayor Guo Jinlong and Vice-Mayor Ji Lin on Wednesday.
But Hong Kong newspapers such as Sing Tao Daily say most analysts believe this is a routine personnel reshuffle, since Guo Jinlong was made recently the city's Communist Party secretary.
Coverage of the London Olympics is gaining pace, with People's Daily Overseas Edition and others reporting the flag-raising ceremony by the Chinese team at the Olympic Village.
Chinese State Councillor Dai Bingguo will attend the opening ceremony on Friday as a government representative, reports say.
Guangzhou's Southen Metropolis Daily and the Global Times report Cantonese NBA player Yi Jianlian will be China's flag-bearer at the opening ceremony.
This will continue the history of Chinese flag-bearers coming - since 1984 - from the men's basketball team, says Beijing News .
Meanwhile, Shanghai Morning Post says Duan Shijie, deputy chef de mission of the Chinese Olympic delegation, made a pledge to let athletes make comments on their personal microblogs freely.
The Beijing Times reports the arrival of Yao Ming in London - but no longer as a member of the national team.
The retired basketball legend will participate in the London games as a commentator for China's national broadcaster, said the report.
Also on Thursday, China Daily and Shanghai's China Business News report the latest cabinet meeting approved a plan to extend a value-added tax pilot scheme in Shanghai to eight provinces and municipalities, including Beijing, Zhejiang and Guangdong.
The State Council approved the Shanghai pilot last October to replace the business tax with VAT on selected service sectors such as transport, as an effort to avoid double taxation, the reports explained.
People's Daily and Shanghai Daily also talk about the latest International Monetary Fund report on China , which predicts China's economy is indeed facing a soft landing.