China President Hu Jintao in unity call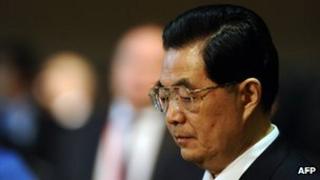 Chinese President Hu Jintao has called for unity in the Communist Party in the face of "unprecedented challenges", in a speech ahead of a leadership change this year.
State-run newspapers carried front-page coverage of Mr Hu's speech on Monday - an indication of its importance.
Mr Hu emphasised to top officials that the current path of economic development would continue.
China is set to unveil new leaders at a party congress due later this year.
In his speech to provincial officials and ministers in Beijing Mr Hu stressed the need for political unity.
State media reports of the speech made no mention of scandal-hit politician Bo Xilai, the former party leader in Chongqing who was tipped to become one of China's top leaders before he became embroiled in a scandal involving the death of a British businessman.
The scandal surrounding Mr Bo, seen as the biggest political shake-up in China in years, made headlines and exposed divisions in the Communist Party leadership.
"We confront unprecedented opportunities and also confront unprecedented challenges," Mr Hu said referring, according to Xinhua news agency, to "the domestic and overseas situation".
"We must unwaveringly take the correct course pioneered by the party and the people over a long period, and neither flinch in the face of any dangers nor be distracted by any interference."
Mr Hu also said in his speech that economic growth had shown that the current path was the right one, saying: "Only reform and opening up can develop China".
"We must not be afraid of any risks, and not be confused by any distractions," he said.
He also urged the party to "unite around the CPC [Communist Party of China] Central Committee" and be well prepared for the congress, Xinhua reported.
Later in the year, China is due to replace its leaders in a shift that happens once every decade, marking the move from one generation of Communist Party leaders to the next.