China morning round-up: Bad weather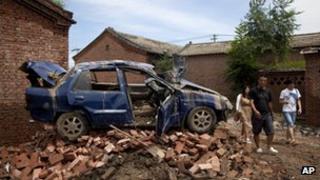 Newspapers continue to focus on the deadly Beijing storm , as southern China is hit by another tropical storm .
Beijing News reports the latest rescue operations in and around the capital, with Mayor Guo Jinlong promising to reveal any updates on the death toll without delay.
Divers were deployed to check submerged cars on the Beijing-Hong Kong-Macau highway, as the municipal government struggled to pump out the water, says the Beijing Times .
People's Daily Overseas Edition asks if Beijing's drainage system is keeping pace with the city's rapid development.
Beijing must work on proper planning for the "conscience of the city", Shanghai's China Business News cited experts as saying, echoing the 19th Century French novelist Victor Hugo in Les Miserables: The sewer is the conscience of the city.
"The government, media and public figures should all be honest about improving disaster prevention," said a bilingual editorial in the Global Times .
Meanwhile, China Daily and Guangzhou's Southern Metropolis Daily warn severe weather is to hit southern Guangdong and Hainan provinces as well as the Guangxi autonomous region as Typhoon Vicente approaches.
Vicente landed in western Guangdong in Tuesday morning. It brought Hong Kong to a standstill overnight, reports the Hong Kong Standard .
The Hong Kong Observatory issued its highest typhoon warning signal, Ming Pao Daily News reports , the first time since 1999, with many injured and passengers stranded at the airport.
The domestic edition of People's Daily describes how Hong Kong authorities issued public warnings, alongside its coverage on the Beijing floods.
The paper also says Vice-Premier Hui Liangyu chaired a meeting on national flood prevention, urging local authorities to stay alert. A total of 95 people have been killed across mainland China since 20 July in heavy rain storms, Shanghai Daily and Beijing Times report.
Also on Tuesday, Peoples Daily and local papers such as Southern Metropolis Daily lead their front pages with a speech by President Hu Jintao.
In his speech, Mr Hu called for party unity in the face of "unprecedented opportunities and challenges".
"We must unwaveringly take the correct course pioneered by the party and the people over a long period, and neither flinch in the face of any dangers nor be distracted by any interference," he said.
Hong Kong's Ming Pao Daily News says although this is Mr Hu's annual 1 July speech - delayed this year due to his visit to Hong Kong - the latest one appears to have summed up his 10 years in office as Mr Hu is due to step down later this year from the Communist Party leadership.
It also says Mr Hu's remarks on economic reform mean the "Chongqing mode" of governance - developed by the now disgraced former Chongqing party chief Bo Xilai - is now "bankrupt".
The Global Times and Guangzhou's 21st Century Business Herald report Xiao Jie was elected as the first mayor and party chief for the city of Sansha, which was set up recently by Beijing to govern disputed islands in the South China Sea.
Mr Xiao served as an agriculture and technology official in the Hainan government, reports say.
After one day of near-silence in mainland Chinese media, China Daily says the country's railway development is gaining speed "cautiously" one year after the deadly 23 July 2011 Wenzhou train crash.
Ming Pao Daily News says most of the mainland papers were banned from commemorative coverage, while some family members of the victims paid visits to the crash site on Monday.
Further coverage in the run-up to the London Olympics is found in China Daily , as it examines whether London is ready to shine.
People's Daily says China's anti-doping officials warned athletes from committing "stupid mistakes" when taking medication and nutrition supplements.