China approves military garrison for disputed islands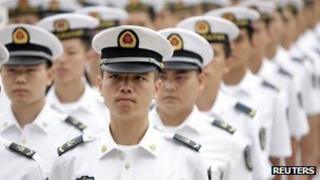 China has approved the formal establishment of a military garrison on disputed South China Sea islands, state media reports.
The command will be based in Sansha city on Woody Island in the Paracels; a city formed in June to govern the area.
On Sunday 45 legislators were also named to the new city's congress.
The moves come amid severe tensions between China and its neighbours over ownership of the several groups of islands in the South China Sea.
China took command of the Paracel islands in 1974 following a battle with Vietnam. Taiwan also claims the islands, whose population numbers only a few thousand, mostly fishermen.
Sansha city was established in June as China's administrative base for the whole South China Sea area, including the disputed territories of the Spratly Islands and the Scarborough Shoal.
'Mobilisation'
The Central Military Commission (CMC) authorised the People's Liberation Army (PLA) Guangzhou Military Command to ''form a garrison command in'' Sansha city, Xinhua news agency reported on Sunday.
The troops would be ''responsible for managing the city's national defence mobilisation, military reserves and carrying out military operations'', said the brief announcement, which was also carried on the defense ministry's website.
The command will be ''under the dual leadership of the Hainan provincial sub-command and the city's civilian leaders'', it added.
No further details, including numbers to be deployed or the timing of deployment, were given.
The moves are set to add to already rife tension in the region.
Vietnam has protested against China's decision to establish the administrative city, its plans to run tourist cruises to the area by the end of the year and calls for oil exploration bids.
Diplomatic tensions are also high between China and the Philippines after a stand-off over the Scarborough Shoal, which is claimed by both sides.
The South China Sea disputes sparked controversy at an Asean regional forum earlier this month when, for the first time in its 45-year history, the 10-nation bloc were unable to agree on a closing statement.