Hong Kong minister Mak Chai-kwong arrested on corruption charges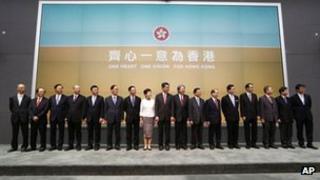 A senior minister in Hong Kong is among four people arrested on corruption charges following allegations they abused government housing allowances.
Mak Chai-kwong also resigned as development minister on Thursday.
He has not commented since his arrest but has previously admitted to buying adjacent flats with another official and renting them out to each other. But he also said this breached no rules.
This comes days after Hong Kong's new chief executive began his first term.
Chief Executive CY Leung also faces legal challenges over claims that he made false statements about illegal structures in his home.
'Followed regulations'
Hong Kong's Independent Commission Against Corruption (ICAC) said that it "has commenced an investigation upon receipt of corruption complaints" on four officials.
The ICAC "confirms that the head of a government bureau, an assistant director of a government department and two other persons have been arrested for allegedly violating the Prevention of Bribery Ordinance in relation to government housing allowances", it said in a statement.
On the arrests, the Department of Justice also issued a statement, saying that it "will ensure that due and proper processes are observed in the conduct of the case" and that "the law and prosecution policy" would be followed.
Mr Mak has not made any comment since his arrest and the reasons for his resignation are not clear.
Hong Kong's Apple Daily newspaper cited land registry documents to show that Mr Mak and Tsang King-man, the assistant director of the highways department, bought adjacent flats in the 1980s and rented them to each other.
Mr Mak is alleged to have been claiming government housing allowances at the time, but he denies any wrongdoing.
"I gave [the civil service bureau] all the facts, and I don't think I breached any regulation," Mak told local radio, according to the AFP news agency.
"I have followed regulations and I don't think the matter involves my personal integrity," he said.
Mr Leung was chosen as Hong Kong's new leader by a committee of 1,200 business leaders and other influential citizens mostly loyal to Beijing after an unusually turbulent campaign in March.
The Chinese government switched its support to him after a string of scandals hit early front runner Henry Tang, who was also said to have had an illegal basement at his home.
Last week, a group of lawmakers filed a judicial review, asking a judge to overturn the election result, as well as an election petition.