China airline crew rewarded with cars and cash for foiling hijack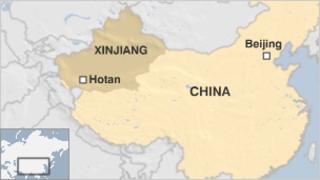 A Chinese airline has given cash rewards and gifts to crew members who helped foil a hijack attempt on an internal flight, state media say.
Hainan Airlines Group gave nine crew members Audi cars, cash and property.
Two safety officers and the chief purser got cash and property worth 4m yuan ($628,500; £406,200) each. The rest got assets worth 2.5m yuan each.
China said the incident on a flight from Hotan in Xinjiang province on 29 June was "a serious crime of violence".
A ceremony was held on Monday in Haikou, the provincial capital of Hainan, to give the awards to the "heroic crew members".
The crew also received rewards from Xinjiang and Hainan governments.
The plane - operated by Tianjin Airlines, a subsidiary of Hainan Airlines Group - had just taken off from Hotan and was bound for Urumqi when the incident occurred.
Officials have said six men tried to break into the cockpit using a broken aluminium crutch as a weapon, but were overpowered by passengers and crew.
The plane landed safely back in Hotan. All the suspects were detained. Officials said they were ethnic Uighurs.
The hijack attempt took place just days before the third anniversary of the July 2009 anti-Han Chinese riots that saw almost 200 people killed.
Zhang Chunxian, Communist Party chief for Xinjiang, vowed last week to use "iron fists" on "separatist forces" in the region.