China's Three Gorges Dam reaches operating peak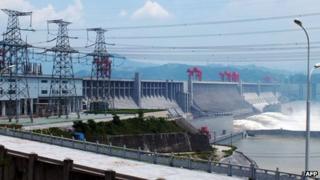 China's Three Gorges Dam is running at full capacity after the last of its 32 hydropower generators went into operation, state media says.
The turbine was connected to the grid on Wednesday, Xinhua news agency said.
The dam is said to have cost up to $40bn (£26bn) to build and forced 1.4m people to relocate.
Chinese authorities say it is a solution to frequent flooding along the Yangtze River and a badly-needed source of electricity to power the economy.
The Three Gorges Dam - located in Hubei Province - first began operations in July 2003.
Putting the final turbine online brought the combined generating capacity to 22.5 gigawatts, amounting to 11% of China's total hydropower capacity, Chinese officials said.
Construction of the dam began in 1994 and was completed in 2006. A 600km-long reservoir reached its full height in 2010, submerging 13 cities, 140 towns and 1,350 villages.
Officials admitted in April that the number of geological disasters had increased dramatically since the maximum water level was reached.
They said another 100,000 people might be moved from the area around the Three Gorges Dam because of landslides and bank collapses.