Recent high-profile mass protests in China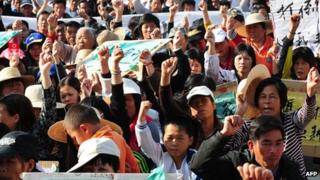 Chinese officials have halted construction of a factory in Shifang city, Sichuan province, after violent protests from residents concerned about its impact on the environment.
The BBC looks at high-profile incidents in China where the actions of residents in towns and villages have forced policy change in recent years - and whether those changes were permanent.
Shifang city, Sichuan province
Residents of Shifang gathered on Sunday and Monday to protest against the construction of a copper alloy plant.
Hundreds of residents and students involved in the protests were concerned that the plant would cause environmental damage.
Both police and residents were injured in the clashes as bottles were thrown outside the government building and cars damaged, officials say.
At least 13 protesters were injured as police dispersed the crowd with tear gas.
Shifang police on Tuesday issued a warning saying that those involved in "illegal gatherings" would be "punished severely".
Following the protests, city officials said they would consult residents on the project and would not restart it "until the majority of people support it".
They also said that teams would be sent to communities and schools to "listen to people's opinions and suggestions".
Wukan village, Guangdong province
Tensions in the village of Wukan were simmering over the perceived corruption of local government officials in 2011.
Villagers said these officials had taken their land over a long period without proper compensation.
In a show of anger, they staged protests and went on a rampage in September.
In December, a village negotiator died in custody. Police said he died of a "sudden illness", but his family said he was beaten to death.
His death sparked a stand-off between villagers and local officials. Senior provincial officials stepped in to negotiate with villagers and called for an investigation into the corruption allegations.
As a result, two local officials were removed from their posts and others punished in 2012.
The villagers also won the right to elections as part of the deal. In March, thousands of residents voted for their new village chief and other officials.
Dalian city, Liaoning province
About 12,000 residents staged protests in Dalian in August 2011, citing pollution concerns over a toxic chemical plant.
Residents living near the plant had to be evacuated after storm waves breached a dyke. The dyke was eventually repaired, but there were concerns that the paraxylene (PX) chemical made in the plant would leak.
PX is used in fabric manufacturing and can be highly toxic.
Protesters carried banners stating: "I love Dalian and reject poison" and "Give me back my home and garden! PX out! Protect Dalian!".
To appease them, authorities ordered the plant's immediate closure and there were reports that it would be relocated.
However, a report from The Guardian newspaper in January says that the plant is in production once again.
The government would not confirm or deny if production has resumed, but one official did tell The Guardian that plans to move the factory to another island would take time.
Haining city, Zhejiang province
Hundreds of villagers in Haining staged protests for three days in September 2011 against a solar panel factory after large numbers of fish turned up dead in a local river.
Some demonstrators broke into the plant, destroying offices and overturning company cars before being dispersed by riot police.
Villagers had accused the manufacturer of dumping toxic chemicals into the water.
Tests on water samples showed high levels of fluoride, which can be toxic in high doses, officials said.
The factory was shut down, with a company spokesman promising that "corrective measures" would be taken regarding the accidental discharge in the area during a rainstorm.
He added that an investigation into whether the fluoride caused the fish deaths and a clean-up would take place.
Local officials had also said that there would be an overhaul of the production procedures at the plant involving the emission of waste gas and water.
In 11 October 2011, the manufacturer said operations had resumed after an expert panel appointed by the Haining city government said it was satisfied with improvements at the plant.
Xiamen city, Fujian province
In 2007, residents of Xiamen staged a series of protests against the construction of a chemical factory in the area.
Work had already started on the plant in Xiamen's outskirts, but the local government put the project on hold after protests received nationwide attention.
Officials also ordered an environmental report. The findings were published by the environment ministry.
The Fujian provincial government and the Xiamen city government eventually agreed to abandon the Xianglu Dragon Group's plan to build the factory in Xiamen following the protests.
In January 2009, it was reported that the plant would be transferred to the nearby city of Zhangzhou.
On 7 June, state-run news agency Xinhua reported that the PX plant will begin production in the second half of 2012 in Zhangzhou.