Cuban leader Raul Castro arrives in China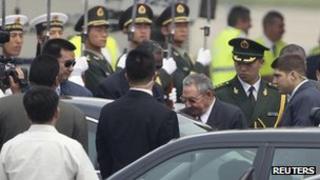 Cuba's Raul Castro is in China for a four-day visit, his first since taking over the leadership from his brother, Fidel, in 2008.
Mr Castro is due to meet Chinese President Hu Jintao in Beijing and sign co-operation deals, said the Chinese foreign ministry.
He left Havana on Sunday, and will also visit Vietnam after China, a statement in the official Granma newspaper said.
China is Cuba's second largest trading partner, after Venezuela.
China and Cuba are also close allies. Cuba was the first Latin American country to establish diplomatic ties with communist China.
''China pays great attention to his state visit to China," said Chinese foreign ministry spokesman Liu Weimin.
Mr Castro is being accompanied by Foreign Minister Bruno Rodriguez and Ricardo Cabrisas, a vice president of Cuba's council of state, according to the Granma report.
Neither China nor Cuba have released detailed information on Mr Castro's visit.
He has previously visited both China and Vietnam as Cuba's defence minister.