'Hijack attempt foiled' in China's Xinjiang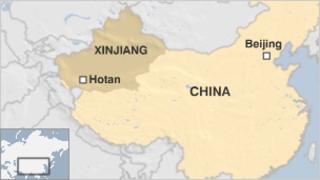 Crew and passengers foiled a hijack attempt by six people on a plane in the restive Xinjiang region, Chinese state media and an official say.
The Tianjin Airlines plane had just taken off from Hotan and was bound for Urumqi when the incident occurred.
It returned to the airport and the suspects were detained, a statement on the region's official news portal said.
A spokeswoman for the Xinjiang regional government said the hijackers were men from the Uighur minority group.
Hou Hanmin told the BBC that the group tried to break into the cockpit using a broken crutch as a weapon but were overpowered by passengers and crew.
At least seven passengers and crew were injured, she said.
No details were available on the alleged hijackers' motives or identities, she added, and police were "still investigating" whether they had any other weapons.
Almost half of Xinjiang's residents are Uighurs, a Muslim minority group with cultural and ethnic links to Central Asia.
Uighur allegations of discrimination and marginalisation have been behind anti-Han Chinese and separatist sentiment in the restive region since the 1990s.
In 2009, riots erupted in Xinjiang in which nearly 200 people died after tensions flared between the Uighur and Han Chinese communities.
Since then, there have been sporadic attacks and clashes, including an attack on a Hotan police station in July 2011 that left several people dead.