China punishes officials over late-term abortion case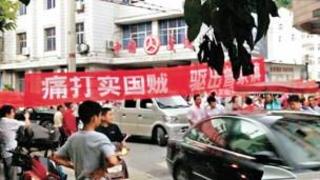 A Chinese official has been sacked and others punished over the case of a woman forced to have a late-term abortion, state-run media report.
An investigation showed that officials "used crude means" to persuade Feng Jianmei to agree to the abortion, Xinhua news agency reports.
Ms Feng's pregnancy was terminated at seven months because she had violated the one-child policy law.
Photos of her with the foetus caused widespread condemnation online.
China's one-child family planning policy aims to control the country's population, which now stands at around 1.3bn. Rights groups say the law has meant women being coerced into abortions, which Beijing denies.
Ms Feng's case has come to symbolise the extreme measures some officials take in order to meet population targets, reports the BBC's Martin Patience in Beijing.
Officials punished
Officials in China's north-west province of Shaanxi were punished for having "violated the laws of central and local government on family planning", Xinhua reports.
The head of the family planning bureau in Zhenping county, Jiang Nenghai, had been sacked. Another family planning official had also been given "administrative demerits", Xinhua said.
Other officials in connection with the case had also been punished, Xinhua said, without elaborating further.
"According to the investigation, while persuading Feng to receive the abortion, some staff of the township government used crude means to violate her intentions," Xinhua says.
"There was also no legal basis for the township government's demand that Feng and her family pay a deposit of 40,000 yuan [$6,300] for a certificate allowing her to have her second child," it added.
Ms Feng will be given compensation, Xinhua adds, without providing the details.
A relative of Ms Feng's told reporters on Tuesday that the family had been harassed since leaving hospital, possibly with the tacit encouragement of local government officials embarrassed by the scandal after the family spoke to foreign media.
Pictures circulating on the internet appeared to show a large red banner saying: "Beat the traitors, drive them from the town", strung up in Shaanxi.
The relative added that Ms Feng's husband, Deng Jiyuan, had gone into hiding on Sunday because of the harassment.
''We are not in touch with my brother,'' Mr Deng's sister, Deng Jicai, told the BBC on Wednesday. ''My sister-in-law is also experiencing heavy pressure.''
Ms Deng also said that people had been calling her family traitors and this had caused them ''great psychological trauma''.
''She [Ms Feng] had already been traumatised from the abortion, now somehow she's accused of being a traitor.''