Chinese couple forced into late-term abortion branded 'traitors'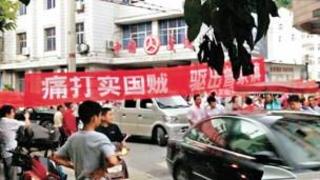 The husband of a Chinese woman forced to have a late-term abortion has gone into hiding and her family are being harassed, a relative has said.
Feng Jianmei was made to terminate her pregnancy at seven months as she could not pay the fine for violating China's one-child policy.
Photos showing her with the foetus caused widespread condemnation when they were leaked on the web.
Officials apologised, but the couple are now apparently being hounded.
A relative of the theirs told reporters that the family had been harassed since leaving hospital, possibly with the tacit encouragement of local government officials who have been embarrassed by the scandal.
She said Ms Feng's husband Deng Jiyuan had gone into hiding on Sunday.
'Sanctioned violence'
Pictures circulating on the internet appear to show a large red banner saying "beat the traitors, drive them from the town" strung up in the family's town in Shaanxi province.
"On Sunday evening, we decided to go home [from hospital] and a lot of people had gathered outside," the relative, who wished to remain anonymous, said.
"They hung banners on a bridge and many people came and shouted that we were traitors. Now wherever we go, people follow us."
China's one-child family planning policy aims to control the country's population, which now stands at around 1.3bn.
Rights groups say the law has meant women being coerced into abortions, which Beijing denies.
"Feng Jianmei's story demonstrates how the one-child policy continues to sanction violence against women every day," said Chai Ling of the US-based activist group All Girls Allowed.
The group says it spoke to Ms Feng and her husband Deng Jiyuan after the incident. Mr Deng said his wife had been forcibly taken to hospital and restrained before the procedure.