China halts UK ministerial meetings over Dalai Lama row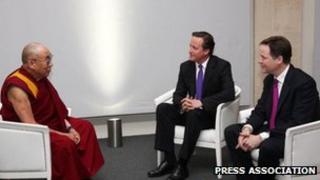 China halted ministerial meetings with UK counterparts in May, when Prime Minister David Cameron met the Dalai Lama, British officials have confirmed.
China warned earlier that relations would not be restored until the UK "stops supporting anti-Chinese forces".
It has also reportedly threatened to withdraw its Olympic athletes over a scheduled Dalai Lama speech in Leeds.
The UK's Foreign Office has called the row disappointing and appealed for its sensible resolution.
The exiled Tibetan spiritual leader visited the UK to receive the £1.1m ($1.7m) Templeton Prize for his work affirming the spiritual dimension of life.
Downing Street said he was "an important religious figure" who had met previous British prime ministers.
'Remove Tibetan influence'
But the encounter triggered an angry response from Chinese officials, who described it as an intrusion into its domestic affairs and warned of "serious consequences".
As a result, all high-level meetings with Britain have been suspended since May, including a visit to London by senior leader Wu Bangguo.
UK ministers Lord Green and Minister Jeremy Browne, both in Beijing to discuss trade and justice matters, saw their meetings either cancelled or downgraded.
"The responsibility lies on the British side," said the Chinese Foreign Ministry's Liu Weimin.
"We demand the British side take immediate measures to remove the Tibetan influence, so as to restore China-UK relations with concrete actions."
Olympic pressure
Returning to the UK this week, the Dalai Lama is expected to speak at an international business convention in Leeds, which will also be the training base for China's Olympic athletes.
It is thought Chinese officials asked Leeds City Council to put pressure on the organisers to cancel his visit.
The Dalai Lama's visit will go ahead but the council has removed any association between itself and the convention.
In a statement, Tom Riordan, chief executive of Leeds City Council, said the convention was a private event not organised by the council.
"Whilst we are aware of some sensitivities around this year's convention, as it is not a council event we do not feel it is appropriate for us to make any further comment," he said.
The Dalai Lama lives in exile in India, travelling the world to seek support for more rights for Tibetan people.