China morning round-up: Annual high school Gaokao exam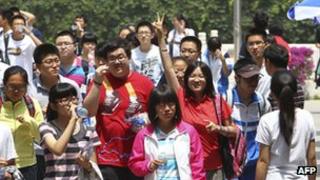 Newspapers in China extensively cover the annual university admission examination known as Gaokao as high school students go through the first day of the tough two-day test.
China Daily reports about how anxious parents waiting outside a Beijing exam centre scrambled to order expensive nutritious lunches from nearby restaurants for their children.
While most people would think that students are under immense pressure during the exam, the paper also reports that teachers also suffer from such anxiety.
Hong Kong's Sing Tao Daily talks about some tough anti-cheating measures in various places. Some provinces even ban candidates from bringing their own pens, it says.
Shanghai Morning Post says some microblog users have estimated how the cost of the exam has changed over the past 35 years, saying that people are now paying "tens of thousands times more money" for Gaokao than in 1977.
Hong Kong's Ming Pao Daily News notes that China's "Gaokao economy" has been booming since April, with nutrition supplements and reference books rapidly selling and hotels around exam centres packed with parents and students.
Even companies with names seen as auspicious or those owned by universities have seen their share prices rally because of the exam.
The most discussed topic is the exam paper for Chinese language composition. Some 15 provinces and municipalities were granted autonomy to administer their own exam papers, aside from the two sets of national test papers.
Beijing News says that well-known Chinese writer Jiang Fangzhou has criticised the topic of the capital's composition paper for being too dull.
However, the Shanghai Morning Post says that city's topic, Glimmer in Your Heart, has been cited for its creativity by former education ministry spokesman Wang Xuming. He even said that he was "tempted" to write his own interpretation of the topic.
Chengdu's West China City Daily and Guangzhou's Southern Metropolis Daily both report on how online microblogs are filled with people's own attempts to answer the Sichuan and Guangdong exam papers.
Beijing Times says many microbloggers were spreading news of this year's exam papers soon after the test began. But the information proved wrong, after education authorities released the actual papers to the public at midday.
People's Daily Overseas Edition says years of heated debate on the composition papers is a result of the public's expectation on China's language education reform.
The editorial of Southern Metropolis Daily says such nationwide criticism reveals people's concerns that most composition exam topics have become too philosophical and too removed from reality.
Beijing News's editorial says the only way to ease the anxiety for students and parents is to end the "fate-determining" quality of Gaokao, it being the only way students can get into university.
The Global Times' Chinese editorial describes China's Gaokao as "the most spectacular admission test in the world" and says it reveals the complexity of Chinese society.
It also says that no matter how many problems are found in the Gaokao system, people should only discuss how to improve the system, but not to abolish it.