Profile: Andy Zhang, China's teenage golfer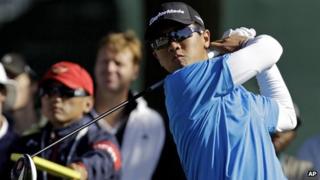 Andy Zhang - the 14-year-old poised to become the youngest golfer to play the US Open since World War II - will be one of the big talking points at the tournament which begins on Thursday.
The Chinese-born Florida-based player may be half the age of many of his rivals on the professional circuit - but he is already 6ft tall, with a swing speed of 115mph and is used to playing and winning mini-tour events.
Andy Zhang comes from Shandong province in China and spent the bulk of his childhood in Beijing, reportedly picking up golf clubs for the first time at the age of six and beginning to work with a coach from the age of seven.
His mother, Hui Li, recognised his talent and brought him to the US to participate in a handful of tournaments when he was 10. He is currently a student at the Leadbetter Academy in Florida.
His golfing abilities have won praise from several senior players he considers to be heroes, including Rory McIlroy, Aaron Baddeley, Tom Watson and Tiger Woods - who reportedly sought him out in the locker room.
Although he has legitimately won the right to compete through qualifying - and because of injuries to another player - the BBC's golf correspondent Iain Carter says that his inclusion brings golf into one of sport's biggest ethical debates.
The question of how healthy it is for children to be competing in the adult world is being more frequently posed as more and more emerge from coaching hot houses.
It is a debate in which Tiger Woods has come down firmly on the young golfer's side.
"It's not too young if you can do it. That's the great thing about this game, it's not handed to you. You have to go out and put up the numbers and he did," he said.
"He shot the scores he needed to qualify and move on and he did and he's here playing on the biggest stage. Just think about the experience he's going to gain playing in this event. How well that's going to serve him playing junior events and high school events."
While Andy Zhang's mother is with him in San Francisco, AFP news agency reports, his father returned to China at the weekend thinking his son would probably remain a reserve for the second major of the season.
Andy Zhang is a year younger than Tadd Fujikawa was when he competed in 2006.
According to the US Golf Association, the youngest competitor prior to Fujikawa was Tyrell Garth, who was a month short of his 16th birthday when he played in 1941.
Andy Zhang is not the youngest player in major history. He will be 14 years and six months on Thursday, while Tom Morris reportedly first played in the Open Championship at 14 years and four months in 1865.