Chinese police detain 'hit-and-bury' couple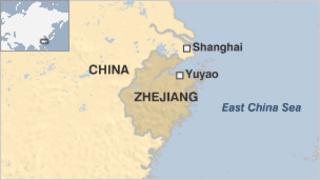 Police in China's Zhejiang province have detained a couple accused of burying an elderly woman alive after crashing into her, state media say.
The couple, both 25, hit the 68-year-old woman as they returned from a night out drinking at a karaoke bar on 30 April, police said.
They buried her at a construction site in the city of Yuyao to cover up the accident, police said.
It is not clear whether they knew she was alive when they buried her.
Police said the accident occurred as the couple drove back from the karaoke bar late at night.
An eyewitness told the police that they put the woman in their car after the crash and said they would take her to hospital.
The woman's buried body was later found by workers at a construction site.
"It's certain the woman was not dead when buried," a police publicity officer in Yuyao told the China Daily.
The couple were arrested in Guizhou's Liupanshui city on 9 May.
The incident has ignited debate, with some internet users comparing it to a case in central Xian in October 2010 in which 21-year-old Yao Jiaxin stabbed a woman to death after hitting her with his car. Yao was executed in June 2011.
Netizens described the couple as "Zhejiang's Yao Jiaxin" and called for them to be punished.
China tightened laws on drink-driving just over a year ago.
The Ministry of Public Security said last week that 1,220 people had died in road accidents linked to drink-driving between May 2011 and April 2012, 38% lower than the previous year.