Netizens angered by North Korean detention of fishermen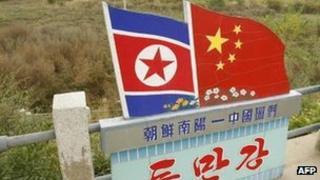 Chinese internet users have reacted angrily to North Korea's detention and alleged ill-treatment of 28 Chinese fishermen.
The group, who were seized along with their three fishing boats on 8 May, returned to the Chinese port of Dalian on 21 May and told the media about their ordeal.
Their North Korean captors locked them in a small room, gave them little food and robbed them of all their personal belongings, said the official newspaper Global Times in an online report .
Some of the fishermen were beaten repeatedly with sticks, the Hong Kong-based Phoenix TV reported .
The allegations, which have been circulated widely on Chinese social media, caused anger among netizens, who slammed North Korea for its "ingratitude" and accused the Chinese authorities of being weak.
"Ungrateful"
In recent years, Chinese fishermen have been involved in numerous disputes with neighbouring countries such as Japan, South Korea and the Philippines.
But to Chinese internet users, the latest incident involving North Korea was particularly infuriating because the country relies on China for aid and trade.
On Weibo, China's Twitter-like microblogging platform, more than a million posts have been published on the incident since the detention was publicised last week.
"North Koreans, do you still deserve our help? Is this how you repay us?" said Kong Lingquan , a Shanghai-based event director.
"We were bitten by the dog we had been feeding," wrote another.
Many online comments referred to China's intervention in the Korean War, which saved Kim Il-sung's communist regime.
"China aided North Korea in resisting the US! How can they be so ungrateful?" one microblogger wrote.
"The Americans are right. North Korea is nothing but a terrorist rogue state, a country of robbers," said another.
"Shameful"
Many netizens have criticized the Chinese government's handling of the incident, some even calling Beijing "impotent".
"After such a shameful incident, why doesn't our government demand an explanation from North Korea?" a Weibo user said.
Some have accused Beijing of trying to play down the matter for fear of offending Pyongyang.
"[The government] criticizes Japan, America, the Philippines and Vietnam every day, but dare not utter a word against North Korea," You Yi, a Shenzhen-based commentator, wrote on his microblog .
In an editorial , the Global Times responded to such sentiment.
The paper noted that "the public feels that once any conflicts involving North Korea occur, authorities will not take tough measures".
It also admitted that "there are rumours about misbehaviour from North Koreans in the border areas between the two countries" and that "China does not seem to be taking a tough attitude".
The editorial said that the latest incident "should be a turning point for China in its handling of border disputes" with North Korea, adding that "China will not allow any misbehaviour" by Pyongyang.
BBC Monitoringselects and translates news from radio, television, press, news agencies and the internet from 150 countries in more than 70 languages. It is based in Caversham, UK, and has several bureaux abroad. For more reports from BBC Monitoring, click here