China tunnel explosion in Hunan province 'kills 20'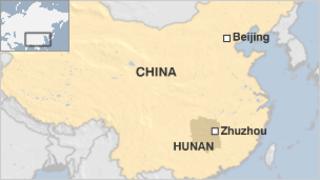 An explosion in a road tunnel being constructed in central China has killed at least 20 people, state media say.
The blast occurred in a tunnel on the road linking Yanling and Rucheng in Zhuzhou city in Hunan province.
It took place as a vehicle carrying explosives was being unloaded, state media quoted local authorities as saying.
Lax building rules and poor safety standards mean such accidents are far from uncommon in China.
Four workers had been pulled out of the tunnel, including one in a critical condition, AFP reports, citing state media.