Bob Fu, the US activist supporting Chen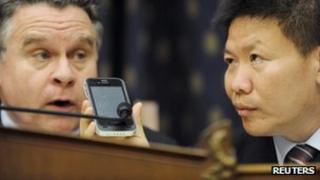 The world was transfixed when Chinese dissident Chen Guangcheng called a US emergency Congressional hearing from his hospital in Beijing during a live TV broadcast. But who was the man holding the phone and translating Mr Chen's words?
Bob Fu, founder and president of the US-based human rights group China Aid, has been key to publicising Chen Guangcheng's escape in the US and in media across the world.
A Christian activist who fled to the US after experiencing political and religious persecution in China, Mr Fu has shown himself to be savvy at focusing media and political attention on Mr Chen.
He was one of the first to know about Mr Chen's dramatic escape from his heavily guarded home in Shandong in April, and his organisation promptly issued a press release with details.
Mr Fu's extensive links to activist networks in China had international media scrambling to contact him to learn the latest news on Mr Chen - especially in the first few days after Mr Chen's escape became known, when Mr Chen's friends and family were being closely watched by China's authorities.
He was instrumental in maintaining political pressure on the US government - ensuring that Mr Chen had the chance to speak live not once, but twice, to the US Congress via telephone.
And he was quick to criticise the US when the US-China deal on Mr Chen seemed to unravel, saying in a statement that "relevant reports show unfortunately the US side 'has abandoned Mr Chen.'"
His organisation China Aid maintains a presence on the internet - in addition to a Twitter feed publicising its causes, including news of Mr Chen, it has also launched an online photo campaign, urging activists to upload photos of themselves wearing dark glasses to show their support for Mr Chen, who is blind.
China Aid is based in Texas, and receives funding from philanthropists and church groups. He is also in close contact with members of the Republican party, and has met former US president George W Bush.
Escape
However, his personal experience is likely to be what gives him the most credibility with activists in China.
Born in China, Mr Fu was detained for his involvement in the 1989 student protests in Tiananmen Square, and had to write several self-criticisms to avoid serious punishment.
He was arrested again in 1996, for running an underground church in Beijing with his wife.
They escaped to the US via Hong Kong the following year, after Mr Fu's wife learned she was pregnant - she lacked a pregnancy permit from the authorities and feared she would be forced to have an abortion.
He started China Aid in 2002 from his garage in his Philadelphia home, relocating to Texas in 2004.
The group has stayed active over the years, campaigning for religious freedom in China and encouraging supporters to write to imprisoned Christians in China.
Despite heavy internet censorship on Chen Guangcheng's case in China, several of China's microblog users appear aware of him, and consider him a reliable source of information.
"Pastor Fu's news has come out - this is more believable," one user posted on 27 April, when news of Mr Chen's escape first emerged.