China and Japan discuss disputed island chain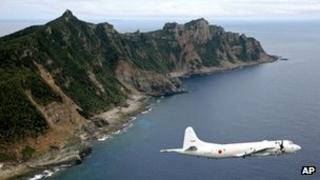 China and Japan are holding talks on maritime issues, with a group of disputed East China Sea islands top of the agenda.
The talks in China are being attended by foreign, defence and maritime officials from the two countries.
They were expected to discuss the row over the resource-rich island chain known in Japan as Senkaku and in China as Diaoyu.
The islands are controlled by Japan, but also claimed by China.
Both side were expected to discuss how to avoid future clashes around the islands, which lie northeast of Taiwan, east of the Chinese mainland and southwest of Japan's southern-most prefecture, Okinawa.
Relations between China and Japan hit a low point after Japanese coast guards arrested a fishing boat captain near the Senkaku islands in September 2010 following a collision.
"China and Japan reached consensus in December to set up a China-Japan high-level consultation mechanism on maritime affairs," said Hong Lei, spokesman for the Chinese foreign ministry, in a press conference on Tuesday.
But Japan's decision to allow the World Uighur Congress (WUC) to meet in Tokyo could cast a shadow over the Hangzhou meeting, reports from Beijing suggest.
Beijing says the WUC has links to terrorist organisations that aim to separate the restive region of Xinjiang from China. WUC says it seeks to promote the right of Uighurs to use peaceful, democratic means to decide the future of Xinjiang.
Reports also suggest that harsh exchanges took place between Japanese Prime Minister Yoshihiko Noda and Chinese Premier Wen Jiabao over the islands dispute and human rights issues when they met in Beijing over the weekend.
A bilingual editorial in the Global Times said that against this backdrop, prospects for these high-level talks were "not promising".