China suicide bomber kills three in housing office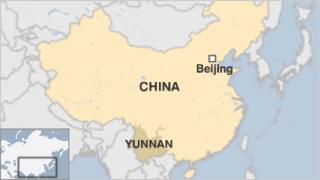 Chinese state media has identified the person who blew themselves up in a government office in Yunnan province, killing three other people.
Zhao Dengyong, a 26-year-old man, blew himself up in a local housing demolition office on Thursday.
It happened as local officials signed "compensation agreements" with villagers for the demolition of their homes, Xinhua news agency said.
Earlier reports from Xinhua had said that the bomber was female.
The news agency gave no reason for the discrepancy in its reports.
Two villagers and an official were killed in the blast, as well as Mr Zhao, the agency said.
Four people with serious injuries were taken to hospital in Kunming, the provincial capital, while 12 others were being treated at a local hospital.
Xinhua said it was "not clear" whether the blast was linked to demolition work in Mr Zhao's township.
But the issue of inadequate levels of compensation offered by officials - some in collusion with developers - for the compulsory demolition of people's homes has become a key source of tension in China.
Last year, China passed a law that politicians said would improve citizens' rights and make it harder for the authorities to carry out forced evictions.
While rare, attacks like that on Thursday are not unheard of in China, says the BBC's Martin Patience in Beijing.
Earlier this year, five people were killed in a suicide bomb attack in an apparent family dispute over land rights.