The US and China's dilemma over Chen Guangcheng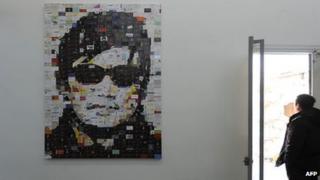 China and the United States appear determined to minimise any long-term damage to their relationship because of the blind activist Chen Guangcheng.
Mr Chen is thought to be under the protection of the US embassy in Beijing after a daring escape from home detention.
This has created a difficult diplomatic problem between the two countries, just days before they are due to hold high-level negotiations in Beijing.
The reluctance to talk publicly about how they are working to resolve Mr Chen's status suggests both sides want to avoid this issue escalating.
Relations between China and the United States have often been strained.
Over recent years there have been trade disputes, heated words in the United Nations and differences of opinion about human rights.
But the relationship between the world's two largest economies seems to have improved recently, particularly since Chinese Vice-President Xi Jinping visited the US earlier this year.
'Better' ties
US Treasury Secretary Timothy Geithner said as much in an interview in the last few days. The economic relationship is "better than it was", said the senior official.
That improvement is perhaps the reason why both sides are keeping quiet about the Chen Guangcheng case.
China has maintained an absolute silence, with no mention in the official media about Mr Chen's flight.
And neither Hillary Clinton, the US secretary of state, nor President Barack Obama would be drawn into comments on this issue on Monday.
Prof David Zweig, of the Hong Kong University of Science and Technology, said: "Hillary Clinton seems like she wants to bury this issue."
Some might think that strange. After all, Mrs Clinton has often spoken about Mr Chen and his house arrest.
But with the US needing China's cooperation on a range of issues, including North Korea, Iran and Syria, she has probably calculated that it is better to resolve this affair as quickly and quietly as possible.
"This might not have a big impact on relations if they can get Chen Guangcheng out fast," said Prof Zweig.
Complications
Mr Chen has indicated that he does not want to leave China. When he escaped the village of Dongshigu, in Shandong province, he left behind his wife, child and other relatives.
Shi Yinhong, professor of international relations at the People's University of China, said the country's leaders will be angry if the United States has helped Mr Chen enter its embassy.
"It's one thing for them to talk about whether Chen Guangcheng is being treated unfairly, but taking action is something else," he said.
"Legally speaking, this is a violation of China's sovereignty."
But he said the Chinese government is "flexible and pragmatic".
China might conclude that it is better to get rid of an activist who has already become something of a cause celebre in his home country.
The government usually neutralises dissidents and activists by banning the media from mentioning them or detaining them if they become particularly troublesome.
Many have higher profiles outside China than inside.
More popular
But Mr Chen is different in that he is more popular than most other activists inside his home country.
He was sent to prison for more than four years after defending women forced to undergo abortions and sterilisations.
The 40-year-old was released in 2010, but kept under constant detention at his home, watched by dozens of plainclothes security personnel.
The authorities gave no legal reason for this detention, but if they thought people would forget him they were wrong.
Hundreds of activists and ordinary people, inspired by Mr Chen's story, visited his village to try to see him. Some were attacked.
There was also a campaign in which internet users posted photographs of themselves online wearing the blind Mr Chen's trademark black glasses.
"There is a chance that Mr Chen's cause could become a monumental struggle for freedom and justice in China," wrote Jerome Cohen, of New York University School of Law last year, before this current drama unfolded.
That is something China will want to avoid at all costs.