Activists debate China lawyer Chen Guangcheng's escape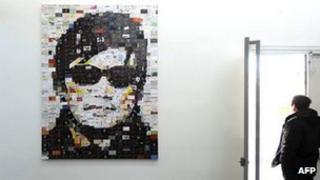 Chinese bloggers and activists have been speculating about how Chen Guangcheng might have made his daring escape from his heavily guarded home in a Shandong village.
In the video released online after his escape, Chen describes the extraordinary layers of security that blockaded his home. Previous attempts by activists and journalists to make contact with Mr Chen had resulted in violent confrontations with the guards.
A Hong Kong-based online activist who calls himself BeiFeng (North Wind) claims to be one of the first people to distribute Mr Chen's appeal online. He received the video from a friend connected to Mr Chen.
He told the BBC that he believed that Mr Chen must have scaled the high wall surrounding his home by himself, while guards were resting, before being driven to Beijing by friends.
Meng Lang, a poet and publisher based in Hong Kong, and co-founder of the Independent Chinese PEN Centre, also believes Mr Chen escaped his home alone. "A blind person is able to use his senses in ways that sighted people may not be able to understand," he told the BBC.
Escape to Beijing
It is widely believed that activist He Peirong, known online as Pearl Her, helped drive Mr Chen out of his confinement. Her actions have been widely praised by China's netizens.
In a post on her Twitter account, that has now been deleted, she wrote: "On April 22 Chen Guangcheng escaped his village and contacted me. I drove him from Shandong to a safe place."
She also posted online, after hearing reports that Mr Chen's nephew Chen Kegui had been detained following a scuffle with police: "Netizens in Shandong and the surrounding area, I implore you to drive along National Route 205 and look for Kegui. Please help, I beg you all! I can't go out anymore, otherwise I'd get in the next car to go by."
Her account has been inactive over the last few hours, and there are fears about her fate.
"Today, people are all affected by two people's fate," said a Beijing user, as he tried to retweet a message about Chen Guangcheng.
There has also been speculation online that Guo Yushan, a Beijing-based researcher, helped Mr Chen in his escape to Beijing.
"I think Guo Yushan is in his home, but being watched," BeiFeng said.
Censorship
There is intense speculation over Mr Chen's current whereabouts. Emily Lau, from the Hong Kong-based NGO China Human Rights Lawyers Concern Group, was in contact with Pearl Her on Friday morning.
"She didn't reveal the details of the escape, but said that Mr Chen was not in the US embassy. As far as we know, he is in Beijing now," she told the BBC.
However, many netizens believe that Mr Chen may be in the US embassy in Beijing.
"I think it's the only free place in China right now," BeiFeng said.
Activists say lines of communication with their counterparts close to Mr Chen have been closed, and that, after an initial rush on Chinese social media sites, China's censors have stepped up their activity.
In order to escape their attention web users were referring to Mr Chen as "the blind man" or simply by his initials, CGC.
These phrases too have now been blocked by moderators.
"Almost all of my posts about Mr Chen on Weibo have been censored," BeiFeng told the BBC. "I had to keep changing the phrases I used."
He added that he was no longer able to make contact with the friend who had passed Mr Chen's video on to him.
Joy at first
The news of Mr Chen's escape has been largely greeted with joy online.
"Some birds aren't meant to be caged. Their feathers are just too bright." This quote from the 1994 US film The Shawshank Redemption has been repeatedly posted on Chinese microblogging site, Weibo.
The reaction to his daring escape and to the video he posted making demands of Chinese Premier Wen Jiabao also continue to generate lively debate online.
"He has escaped from the clutches of the devil," Reuters quotes user "Brave to Speak" as posting.
"Never has the fate of a single blind man moved the hearts of an entire nation," added Jing Huili.
On Twitter Teng Biao, a rights lawyer in Beijing, says: "I have just received a call from a journalist, saying, 'has somebody got into the US embassy again?' Let's hope this 'somebody' is the nickname of Chen Guangcheng."
Amid the euphoria and excitement, however, some netizens expressed concern for Mr Chen's family members, who are believed to be still under house arrest in Linyi.
"Having lost their main prisoner, will those guard dogs redouble their persecution of the remaining family members?" said one microblogger.
Chongqing comparisons
Some online comments have compared Mr Chen's escape with the flight of former Chongqing police Wang Lijun to a US consulate on 6 February, which led to the downfall of Bo Xilai, one of China's most powerful politicians.
Tianjin-based microblogger "Zhang Xiang" said: "The excitement in Linyi is no less than that of Chongqing."
Xie Wen, a well-known IT commentator who was formerly general manager of Yahoo! China, wrote: "It was already an incredible story that police chief Wang fled into a foreign consulate. But now a blind man has vanished despite being under siege and heavy surveillance. The excitement just doesn't end and is becoming overwhelming."
On the YouTube page where Mr Chen's video was posted, there was overwhelming support for him. But there was one voice of support for China's government which stood out.
"All of these are done by Bo Xilai. Down Bo Xilai! Support Hu [Jintao], Wen [Jiabao]!!" wrote Panitare, who decided to add this episode to a string of offences attributed to Bo Xilai.
The BBC's Martin Yip and BBC Monitoring also contributed to this report.