Ex-leaders of China protest village Wukan 'punished'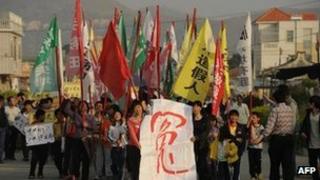 Former officials from a Chinese village that staged a high-profile rebellion over local corruption have been punished, Chinese state media says.
Two officials from Wukan had been expelled from the Communist Party over illegal land deals, Xinhua news agency said, and 18 others punished.
The protests in Wukan in late 2011 attracted enormous public attention.
Villagers drove the leaders out because of land seizures for which they said they were not properly compensated.
The stand-off, reported around the world, only ended after the intervention of senior Guangdong provincial officials.
In what was seen as a concession from the authorities, a new vote was held for new village leaders. Protest leader Lin Zhulan won by a landslide.
'Accepting bribes'
In an article late on Monday, Xinhua news agency said that Wukan's former party chief, Xue Chang, and the former head of the village committee, Chen Shunyi, had been expelled from the party for corruption.
Both were also ordered to hand back illegally obtained funds totalling $44,000 (£27,000) and "may also be handed over to the judicial authorities" as investigations continued.
Six former village officials had also been punished, Xinhua said without elaborating, as well as 12 other town and municipal officials who collaborated with them.
Authorities had found that Wukan's former officials "were involved in illegal transfers of land use rights, embezzling collective properties, accepting bribes and rigging village elections", Xinhua reported, citing a provincial official.
One villager who did not want to be identified, told the BBC that this was not "the ideal result we want to see", because only two officials were being investigated.
Another said the probe had not gone far enough.
"I feel that they're avoiding the heavier problems and picking on only the minor ones. The amount of money these officials are accused for corruption is too low, considering that they've been around for decades!" villager Zhang Jianxing told the BBC.
"The villagers are waiting to see whether the newly-elected village committee will be able to represent our view and challenge the authorities. If not, we will take the petition to the city government again."
There are thousands of protests over land grabs in China each year but the stand-off in Wukan was particularly high-profile because of its longevity and scale.
China has allowed villagers to elect councils with power over local issues since the 1980s, but such elections are often subject to interference.
The granting of fresh elections in Wukan was seen as a surprising concession from the Guangdong authorities, led by ambitious Communist Party head Wang Yang.