China morning round-up: Making expenses transparent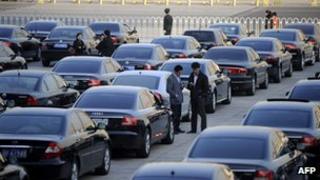 China's cabinet has ordered provincial governments to make expenses transparent in two years' time, report Thursday's newspapers.
People's Daily , Beijing News and others report that central government ministries and departments are also required to publish expenses data in detail.
The funds concerned are called "the three public spending" in China, which refers to details of government vehicle purchases and management, travel expenses for duty trips outside mainland China and spending on official hospitality.
The public are increasingly resentful of abuse of public funds by government officials at different levels - buying luxury cars and going on overseas trips which they claim are part of their official duties.
Meanwhile, mainland and Hong Kong newspapers such as the Sing Tao Daily report that a group of local health officials from central Shaanxi province allegedly went to Hong Kong and Macau for a holiday, while telling the government that they were at a provincial conference.
Civil servants involved denied they paid the trip with government money, but netizens are asking why previous bans from Beijing on publicly-funded holidays cannot stop this happening.
Commentaries from Beijing Times and others urge the authorities in Shaanxi to investigate the incident thoroughly.
China's stand-off with the Philippines over the South China Sea continues to be a major topic.
Shanghai Daily and others report further reaction from Beijing's Foreign Ministry, which says Manila's claim over the Scarborough Shoal - known as Huangyan Island in China - is "illegal".
China Daily says Deputy Foreign Minister Fu Ying summoned Manila's charge d'affaires in Beijing on Wednesday to lodge a protest. This is the second time in four days.
Papers including Guangzhou's Southern Metropolis Daily also report that China's "most advanced" fisheries administration vessel has set sail from Guangzhou for the South China Sea, without specifying which area will it be patrolling.
A People's Daily commentary claims that Beijing's determination to defend its sovereignty will not be hindered by the "China threat theory".
"Any country that carries out vexatious acts is doomed to be hit hard, no matter if it is weak, no matter how pitiful it pretends to be," says the article.
India's test launch of its own Agni-V long-range missile has caught the Global Times ' eye, with the paper claiming the missile has been labelled a "China killer".
Its English editorial attacks New Delhi's plan by saying: "India is still poor and lags behind in infrastructure construction, but its society is highly supportive of developing nuclear power and the West chooses to overlook India's disregard of nuclear and missile control treaties."
"India should be clear that China's nuclear power is stronger and more reliable," it says. "For the foreseeable future, India would stand no chance in an overall arms race with China."