China's Premier Wen says corruption greatest threat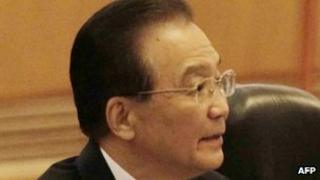 An influential Chinese journal has reprinted comments from China's premier calling for tougher anti-corruption rules, as a political scandal deepens.
Wen Jiabao said corruption was the greatest threat to the ruling party.
The move came amid a drive to support the Communist Party's recent move ousting top politician Bo Xilai over alleged disciplinary breaches.
In another twist, it has emerged that Mr Bo's wife is now suspected of murdering a British businessman.
The politician's wife, Gu Kailai, was detained after the death of businessman Neil Heywood in Chongqing, south-western China, in November.
On Monday, two sources close to the police investigation were quoted by Reuters news agency as saying Mr Heywood, 41, had been poisoned after threatening to expose Mrs Gu's plans to move money abroad.
The Chinese authorities have not publicly commented on the allegation.
'Political purge'
In the article, which appeared in China's influential Qiushi journal on Monday, Mr Wen called for more effective measures to tackle corruption.
The article published in the party magazine was based on a 26 March speech Mr Wen gave to China's State Council.
He said that greater transparency and a reduction in the concentration of powers among government structures were also needed.
The article, however, did not directly mention Mr Bo, 62, who is now under investigation for serious breaches of discipline.
Media reports suggest the former Chongqing party chief tried to abuse his power to derail the investigation into his wife.
Mr Bo was once tipped as a future leader and was expected to become a member of the party's powerful Politburo Standing Committee in the autumn.
He commanded strong support and possessed enormous charisma, in stark contrast with most of his colleagues, the BBC's Martin Patience reports from Beijing.
All this has forced China's leaders to handle his removal from power with care, our correspondent says.
He adds that the country's state media have been in overdrive in recent days, pumping out editorials stressing that no-one - not even top politicians - are above the law.
But supporters of Mr Bo see this as a convenient excuse for what they regard as a political purge, our correspondent says.