China morning round-up: Fate of Bo Xilai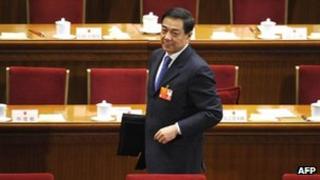 Most front pages of Wednesday's newspapers are filled with Beijing's decision to strip political superstar Bo Xilai of his Politburo post.
People's Daily published a brief statement by Xinhua News Agency on Mr Bo's removal, as well as a Xinhua report on the police's decision to detain Mr Bo's wife Gu Kailai and their servant Zhang Xiaojun in connection with the suspected "intentional homicide" of British citizen Neil Heywood.
Police began re-investigating Mr Heywood's death after complaints were made by Mr Bo's former deputy Wang Lijun, who went to the US consulate in Chengdu early in February, Xinhua said.
It also published a front page commentary by an unnamed commentator calling for firm support for the "correct decision" made by the Communist Party.
Beijing's decision "fully displays the respect for fact and the rule of law, and is entirely consistent with the party's basic requirement of strict discipline on its members and the party's governing philosophy of running state affairs according to law", said the commentary.
"Based on the facts made public so far, the Wang Lijun incident is a serious political event leaving very negative impacts at home and abroad.
"Bo has seriously violated the party discipline, causing damage to the cause and the image of the party and state.
"No citizen stands above the law. Under no circumstances do party members stand above the law. No one can interfere with the enforcement of justice. People who break the law will not escape the consequences of their actions and will face punishment," it said.
Both the Xinhua reports and the People's Daily commentary are reproduced in almost every Chinese language newspaper across mainland China, including the Chongqing Morning Post .
Mr Bo was the party secretary for Chongqing municipality before his downfall. The paper also reports a municipal government meeting chaired by Mayor Huang Qifan, apparently with the intention of showing that life is back to normal in Chongqing.
In Hong Kong, the Standard claims Bo Xilai is already under house arrest. Its sister paper Sing Tao Daily suggests that Beijing is treating Wang Lijun's visit to the US consulate as an act of treason.
But Ming Pao Daily News offers a different take on Wang Lijun, saying that he might receive lenient treatment as he turned Mr Bo's family in.
Ming Pao further says that Mr Bo and his wife are under house arrest in Beidaihe, a sea side resort in Hebei province near Beijing, which is used exclusively by state leaders in China.
Meanwhile the Global Times stresses stability, with a quote from a party school pundit saying: "The incident would neither disrupt the party's 18th National Congress in [the] fall nor the country's long-term political and social development."
Its bilingual editorial says: "The high-profile case has finally brought an initial conclusion to two months of speculation and rumours.
"This emergency, starting from former deputy mayor of Chongqing Wang Lijun seeking refuge at the US consulate in Chengdu in February, shows that China has its own resilience. It is not easily disrupted by sudden incidents.
"What this case has brought to China is merely occasional," the editorial added.
"China is moving fast. In a few months, the global limelight will pour on the country's 18th CPC National Congress. Chinese society will quickly shift its interest away from Chongqing to Beijing then, for that event will lead them into the future."